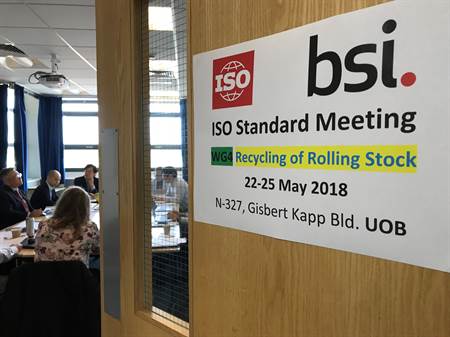 The engineering scientist, Dr Sakdirat Kaewunruen, in the School of Engineering, The University of Birmingham has been appointed as the UK principal scientist for the working group on recycling of rolling stocks of International (ISO) Standard Committee; and recently hosted 'International Expert Meeting on Recycling of Rolling Stocks' at The University in late May 2018.
The working group on the recycling of rolling stocks addresses one of the most pressing issues in global rail systems. It makes significant difference to the public and provides positive and significant contribution through a better eco-friendly design of both passenger and freight trains towards the environmental, social and economic sustainability of the communities they serve. The meeting consists of 14 international experts from 7 countries, including the world largest train designers and manufacturers such as CRRC (China), Bombardier, Alstom/Siemens, and SNCF (France), to name a few. The meeting has resulted in the final draft of the new international standard (ISO) for recycling of rolling stock. The new standard will be the precursor in eco-friendly design, manufacturing, and maintenance operations of trains globally.
The appointment of Dr Kaewunruen is based on his extensive rail research at the University of Birmingham that promotes and encourages technological development and innovation in improving sustainability in transportation and transit systems. It is aligned with United Nation's Sustainable Development Goals, especially:
Goal 9 Build resilient infrastructure, promote inclusive and sustainable industrialization and foster innovation;
Goal 11. Make cities and human settlements inclusive, safe, resilient and sustainable;
Goal 12. Ensure sustainable consumption and production patterns;
Goal 13. Take urgent action to combat climate change and its impacts.
His research addresses global grand engineering challenges and UN's sustainable development goals with great social and economic importance. It provides an insight on advanced methods and concepts for the eco-friendly design, operations and refurbishment of railway assets and infrastructures. More information can be seen from a key publication https://www.frontiersin.org/articles/10.3389/fbuil.2017.00010/full
Dr Cheul Kyu Lee, Chair of the ISO WG4 and formerly Senior Sustainability Advisor of International Union of Railways (UIC), also commended on Dr Kaewunruen's crucial and important contribution and highlighted that "Considering recyclability of rolling stock from the design stage with a standardized guideline contributes to improve its environmental performance and economic values and further sustainable development of railway industry.
The rail sector needs to implement sustainable procurement with life cycle perspective. Integration of eco-design into manufacturing rolling stock reinforces railway industry solid position among transportation modes. With 10% improvement of recyclability at European rail sector, economic benefit will be expected by at least 170 Million Euros per year. Imagine that European rail is around 20% of world market, the standard will contribute to nearly a billion euro annually. This is truly a global legacy".
Dr Sakdirat Kaewunruen
Senior Lecturer in Railway and Civil Engineering
Coordinator, RISEN
E: s.kaewunruen@bham.ac.uk
Ph. (+44) (0) 121 414 2670