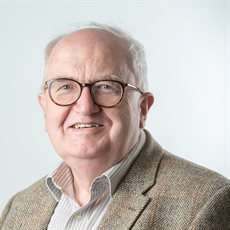 Richard Lehman, Professor of the Shared Understanding of Medicine in the Institute of Applied Health Research, has been awarded this year's George Abercrombie Award for his outstanding contribution to primary care.
Professor Lehman, who describes himself as a 'generalist' ("a polite word for dabbler"), credits his Sheffield grammar school as the most important part of his life, giving him a grounding in critical thinking, a skill he feels should be encouraged in primary schools today. His time at Oxford, where he achieved a degree in English between his two halves of the medical course, enhanced this expertise.
Fascination with the variety of life enticed him to work as a GP in Banbury for 35 years, using his literary talents to comment upon medical journals every week, an early blog to keep in the know and to enlighten friends and colleagues via email. A book followed, 'Heart Failure and Palliative Care', and he retired from practice at 60 aspiring to improve patient care based on evidence-based medicine and with an innate understanding of what it is like to live with illness.
Given for the most commendable literary work in general practice by a fellow, member or associate of the Royal College of General Practitioners, Professor Lehman is very honoured and grateful to receive such an accolade from his peers. Notably, this is predominantly for writing his blog rather than papers or books, although he has written these too.
Professor Lehman is a staunch believer that all medical data should be open and shared with bona fide researchers everywhere and in real time. This conclusion hails from time spent in Yale with mentor Harlan Krumholz, who devised the Yale Open Data Access project (YODA), a system where pharmaceutical and medical device companies are encouraged to use Yale as an honest broker to administer enquiries for release of data.
A reviewer of the five main medical journals for over 20 years, blogging for the BMJ and the BJGP, Richard would like his legacy to reflect the strength Birmingham has in identifying and measuring the burden of illness and treatments in many disease areas, using patient-reported outcome measures, empowering patients to make key care decisions for themselves - for society to move away from superfoods and false claims about breakthrough treatments towards genuine support of people with illness.
Ever modest, he declares 'in the end, the reward has been even greater than the effort.'