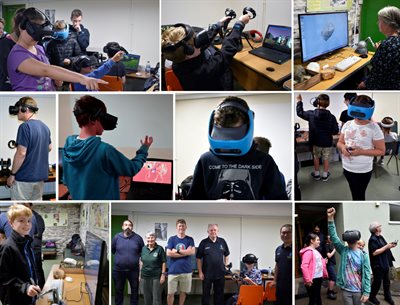 Professor Bob Stone and members of the Human Interface Technologies (HIT) Team staged a unique STEM event in Devon on Monday 30 July 2018.
The HIT Team demonstrated a variety of Virtual and Augmented Reality (VR/AR) projects at the William Pengelly Cave Trust in the small Devon town of Buckfastleigh.
This isn't the first time the Team has visited the Caves Trust. In 2017, the researchers helped the Trust to replace priceless fossils that were stolen back in 2015 by developing virtual recreations of the fossils using scan data provided by the Natural History Museum. Subsequently, they used these scans to 3D print life-size replicas and to develop an interactive "Virtual Cave" demo for school children.
The Virtual Cave project took centre stage at the most recent event, that was part of Buckfastleigh Town Council's 'Hello Summer' kids' programme, and even included a demo using a 3D Systems Touch Haptic feedback system, enabling the attendees to "touch" a 100,000-year-old virtual elephant's tooth.
Other demonstrations included the Team's Virtual Mayflower scenario; a virtual 'garden quest' under development for hospitalised children and a Mars Survival game. The younger attendees were also given a drone flying experience over the area of the caves and surrounding hills by wearing a special VR-like headset, displaying images from the HIT Team's Mavic Pro drone under the control of Professor Stone.
Sheila Phillips, the Caves Trust's Education and Museum Officer said: "Earlier this year the Trust was asked to participate in the local council's holiday scheme by organising three hands-on scientific days for teenagers.
"As Education Officer, I spoke to Professor Stone about [setting up] a VR workshop. The response was excellent and the day was a great success enjoyed by teenagers, some parents and members of Buckfastleigh Council. The feedback throughout the town has been exceptional, with the hope expressed that a similar event could be organised for the older generation".
Andy Stokes, Chair of Buckfastleigh's Town Council and the Town Mayor added: "The University of Birmingham's HIT Team's event at the William Pengelly Cave Centre was a fantastic opportunity for both the young people and the adults present to get a rare chance to see how far the technology has come and to find out how it can be used in all sorts of practical ways. A massive thanks to the team for taking the time to share their knowledge".