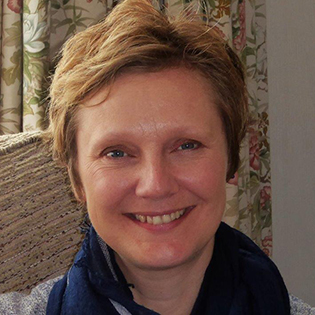 It is with immense sadness that we announce the loss of our friend and colleague Dr Angela Kershaw, who passed away on Wednesday 6 June 2018.
Angela read French at the University of Nottingham (1989-1993), graduating with a First Class degree and a Swiss Embassy Prize for French. Angela stayed at Nottingham for her Masters (Distinction) and PhD, the latter of which she completed on the topic of 'Fiction, Politics and Gender in 1930s' France' under the supervision of Professor Rosemary Chapman. Following posts at Oxford (St Anne's), Leeds and Aston (2001-2008), Angela joined Birmingham in 2009 as a Senior Lecturer in French. Angela wrote extensively in the areas of inter-war French political fiction, translation, and gender. Her publications include 4 co-edited volumes, numerous articles, and books on Forgotten Engagements: Women, Literature and the Left in 1930s France (Amsterdam: Rodopi, 2007) and Before Auschwitz: Irene Némirovsky and the Literary Landscape of Inter-war France (New York and Abingdon: Routledge, 2010). Despite her illness, and with phenomenal drive, in 2018 Angela was able to complete the manuscript for a new book with Palgrave on Translating War: Literature and Memory in France and Britain from the 1940s to the 1960s.
As a teacher and colleague Angela was exceptionally generous and committed. In word and deed Angela had the greatest concern for students' academic and personal wellbeing, and she was extremely popular with Undergraduates and Postgraduates alike. Angela was held in equally strong affection by colleagues, to whom she always showed great loyalty, honesty, humour, and a disarming can-do attitude.

Those who knew Angela may have been aware that she had been seriously ill for some time. Nonetheless, the news of her passing came as a great shock. Angela faced her illness with extraordinary dignity, and she was an example to us, both personally and professionally. We will miss her very much.
Angela was simply the best colleague anyone could have wished for. I first met her over coffee to discuss common research interests soon after she joined Modern Languages; she was literally bubbling with new and exciting ideas. It was contagious. We went on to organize conference panels, edit a special issue and write an article together. She made work easy, she was bright, wise, efficient and had a deep sense of collegiality. It was always a pleasure to meet for work, no matter what challenges we were facing, I would always leave encouraged and positive. Her brave and positive attitude to life came for her faith and gave her an inner strength that was simply awe inspiring. We were privileged to meet her in life and benefit from her work, her integrity is an example to learn from and I sincerely hope we, in Modern Languages, rise to the challenge of keeping her legacy alive.
This is Angela at the Translation Studies Research Forum in 2013, speaking in her typically intelligent and engaging way about her translation and war project. Angela organised the first, resoundingly successful Translation Studies Research Forum back in 2009 and the Forum has become an annual fixture in the College's calendar of research events. Angela was a key member of the Translation Studies team, alongside her other interests and roles, and we benefited hugely from her intellectual sparkle, her enthusiasm for the discipline, her inspiringly positive attitude towards all things, and her collegiality. You could count on Angela to be a voice of sense, always wise, always kind, full of warmth and humour. Angela - we were lucky to have you as our colleague and friend and we shall never stop missing you.
Angela was my lead PhD supervisor. I chose her, without knowing her, because our research interests aligned so well. It was a bit of a gamble, signing up to work three years with someone I did not know, and at first, I did worry about how we would get along. However, I soon discovered that Angela was the best supervisor one could ask for. She was excellent in her field and always gave me food for thoughts. She also understood the needs of her students very well. She sensed that I needed to build up confidence in my work and in myself. She was always helpful and positive, and encouraged me every step of the way. She made me believe in myself and in the quality of my work. When I found something particularly interesting in my research, I was always excited to share it with her as she would be genuinely interested and get enthused as well. She is greatly missed. I am working on completing my PhD and I hope to make her proud. I am so grateful to have had her as my supervisor even if only for a short time.