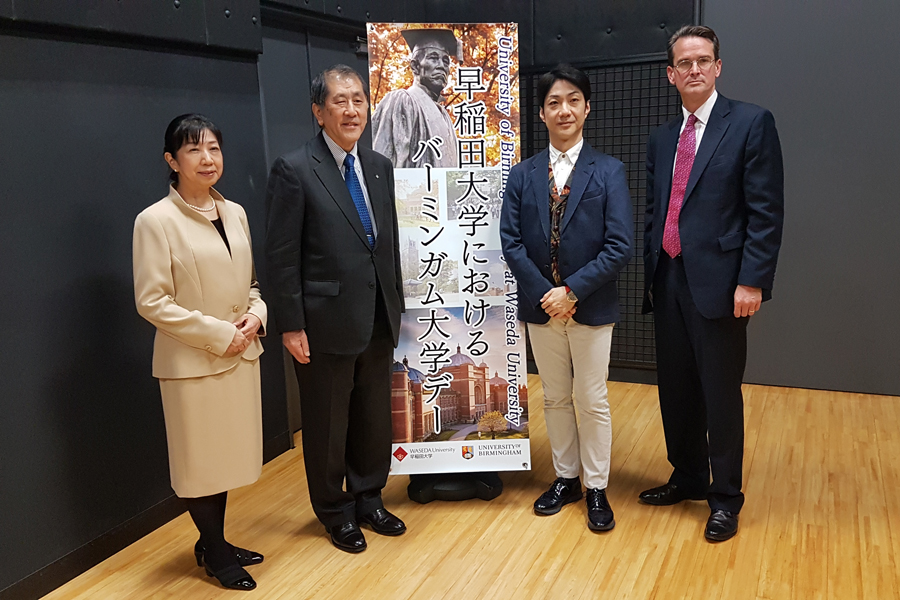 Experts from the University of Birmingham and their counterparts at Waseda University were joined by Japanese Kyogen actor Mansai Nomura to explore how to bring Shakespeare to life for today's theatre audiences.
The famous actor took part in the international symposium which delivered new insight on bringing together theatre practice and academic research to stage the Bard's plays –focussing on how Japanese traditional theatre can help better understand Shakespeare.
Mansai Nomura joined Flute Theatre director Kelly Hunter to deliver a unique performance from Macbeth at the event, with Ms. Hunter speaking the part of Lady Macbeth in English and Mr. Nomura delivering Macbeth's part in Japanese.
The Japanese star addressed the packed auditorium at Waseda about how Noh theatre techniques – such as dead characters in Richard III wearing masks - had been used in Japan to breathe new life into performances of Shakespeare's plays.
Professor Tiffany Stern, from the University of Birmingham's world-renowned Shakespeare Institute, talked about staging plays in Shakespeare's time and how this could help today's theatre makers.
Royal Shakespeare Company (RSC) associate director Angus Jackson discussed how he had staged a season of Shakespeare's 'Rome' plays, such as Julius Caesar, whilst Kelly Hunter talked about using Shakespeare's A Midsummer Night's Dream to engage with young people with autism.
The symposium was a highlight of Waseda's 'University of Birmingham Day' which explored the importance of global Higher Education research – particularly focussing on Britain's research links with Japan.
It celebrated a strategic research partnership between the Universities of Birmingham and Waseda, started formally in 2016, building on collaboration dating from 2000. The partnership involves collaboration in areas such as robotics, atmospheric environmental science, urban studies, language education, creative writing and corpus linguistics, as well as Shakespeare studies.
The event also marked a further day of workshops and discussions between researchers, setting the stage for more collaboration between the two universities in the future.
University of Birmingham Pro-Vice-Chancellor (International) Professor Robin Mason commented: "The Shakespeare symposium illustrates the strength and depth of the research partnership between our universities and we were delighted and honoured that Mansai Nomura joined us to add a fascinating new perspective to our understanding of the Bard.
"The UK is one of Japan's top research partners and we are proud of our partnership with Waseda. It is vitally important for both the University of Birmingham and our country to develop closer engagement with our counterparts in Japan, especially in areas of shared research strength."
Professor Mason delivered a keynote speech at the opening ceremony, outlining the globally important role played by British universities' research. H.E. Paul Madden CMG, British Ambassador to Japan, also addressed the audience, noting that the Waseda-Birmingham partnership was testament to the strong ties between the UK and Japan.
Waseda University President Professor Aiji Tanaka told the audience: "We believe that this is an extraordinary partnership made possible through trust and a relationship developed over 18 years. There are things that we cannot achieve ourselves and our friends at the University of Birmingham can help Waseda University grow and achieve our research goals."
The symposium 'Adapting Shakespeare for the Stage Today' was sponsored by the Great Britain Sasakawa Foundation, co-organised by the University of Birmingham's Shakespeare Institute and Waseda University. It explored what it means to present Shakespeare's work to audiences around the globe today.
The Tsubouchi Memorial Theatre Museum is a Waseda facility devoted to the history of performing arts and used for performances by artists from across the globe. It is named after Professor Tsubouchi Shoyo, a pioneer in modern Japanese literature and theatre, also known for translating Shakespeare's complete works into Japanese.
The Shakespeare Institute is located in Stratford-upon-Avon and has been a beacon for international Shakespeare scholarship since its foundation in 1951. Students benefit from the Institute's collaboration with the RSC and access to the expertise of the company's artists and practitioners.
The two universities have worked together since 2000 before signing their formal agreement in 2016 and there is an active student exchange between Waseda and Birmingham.
For more information, please contact:
Tony Moran, International Communications Manager, University of Birmingham on
+44 (0) 121 414 8254 or +44 (0)782 783 2312. Out-of-hours enquiries: +44 (0) 7789
921 165.
For more information about the event, please contact International Office, Waseda University,
The University of Birmingham is ranked amongst the world's top 100 institutions, with its work bringing people from across the world to Birmingham, including researchers and teachers and more than 7,000 international students from over 150 countries.
Its Shakespeare Institute is an internationally renowned research institution established in 1951 to push the boundaries of knowledge about Shakespeare studies and Renaissance drama. Based in Stratford-upon-Avon, the Institute is led by Professor Michael Dobson.
Waseda University is one of Japan's most prestigious private universities. Based in Tokyo, it was one of the first Japanese universities to accept foreign students, and it currently hosts 5,000 international students from 100 countries, the highest number in Japan.