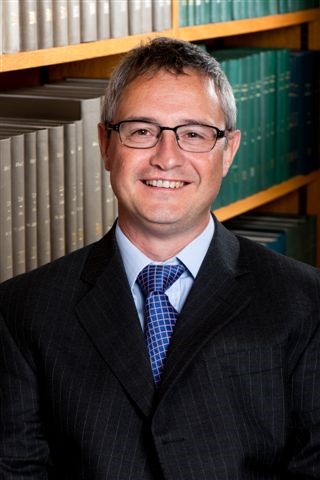 The Institute of Cancer and Genomic Sciences recently appointed Professor Colin Watts as Chair of the Birmingham Brain Cancer Programme. He joins Birmingham from the University of Cambridge, bringing with him over 25 years of clinical experience.
I think that Birmingham is ideally positioned to develop strategic partnerships. It has a fantastic clinical trials unit set up and resource. The 'can do' environment that begins with Professor David Adams, Head of the College of Medical and Dental Sciences and Dean of Medicine, and cascades down is also a big attraction. Having that sense of positivity is very important.
I'm looking forward to strengthening our relationship with University Hospitals Birmingham NHS Foundation Trust (UHB), establishing new and building on existing links so that we can integrate better. The continued development of Birmingham Health Partners will be a key part of this.
I'm involved in a lot of patient outreach and engagement activities, particularly through my work with the Brain Tumour Charity, so I'm excited about the opportunities in Birmingham to work with Professor Melanie Calvert, Director of the Centre for Patient Reported Outcome Research, and her team.
The opportunity to work with Professor Ian Tomlinson, Director of the Institute of Cancer and Genomic Sciences, and his team around developing in vivo models of brain cancer, to understand the metabolic and immune environments, is also very exciting.
There is a brain-specific theme within our Cancer Research UK Clinical Trials Unit and the Institute of Cancer and Genomic Sciences, and we are developing links with the wider University. We also have great connections with our local NHS research and development units, specifically Hilary Fanning, Director of Research Development & Innovation at UHB, and her team.
The Cancer Research UK Birmingham Centre has a lot of skill around immunology, and I hope to include brain cancer alongside its existing areas of interest, such as lung cancer.
My specific areas of interest are in academic neuro-oncology, and developing that through the development of clinical trials and also developing lab-based research wherever possible. I am also captivated by how tumours evolve and what impact treatment has on that process of evolution and how these tumours become resistant to treatment.
Clinically I am interested in developing more strategic processes by which we can establish if drugs penetrate into tumours and whether they engage with the mechanisms that the scientist predicts. From this we want to establish criteria by which a drug moves through from early phase development to randomised clinical trials, and the aim of that is to better understand why trials fail.
A lot of research has been done on patients with glioma, particularly glioblastoma, and almost all of the trials fail. The tragedy is that we don't really learn from those failures and understand why they failed. It starts with a very simple question: does the drug get into the tumour? From this we plan to put together an international consortium that we hope will help us establish the infrastructure that will address this question.
I think my greatest achievement to date was the development of a research clinic while I was at the University of Cambridge. It acts as a hub onto which you can graft clinical and research trials. It's a single point of entry for all patients with brain cancer that is supported by multiple consultants and engages with neurosurgery and neurology.
There is a seamless transition between the initial presentation, surgical intervention and diagnosis, radiotherapy and chemotherapy delivery, and then finally the follow up for patients. It is also a centre or hub around which you can build patient support and patient support networks.
The patient experience is enhanced, as it allows them to ask the questions which they don't want to bother the doctors with, while at the same time providing a supportive environment for what we know is a truly terrifying state to be in from a patient perspective.
It is important that we continue to understand that process of care; doing what we currently do better is as equally important as understanding the biology of disease and developing new treatments for the future. It is all about helping patients in the here and now, as well as developing strategies for future improvements.
Every week I run a clinic. The clinic is usually attended by patients in their 30s or 40s whose ambitions in life have been reduced to trying to see their child's next birthday. Giving hope to these individuals is what keeps me going. The fact that research is the only hope for the future, while at the same time trying to improve what we can do in the present, is also a big motivation.
It is equally important, when I get out of bed in the morning, to remember that I am not a super scientist; I can't compete with scientists who are working seven days in a week in a laboratory. Equally, the scientists need to appreciate what I can offer in terms of the interface between the laboratory and the clinic. Making the operating room an extension of the laboratory is key to how we can transform research in the future going forward.