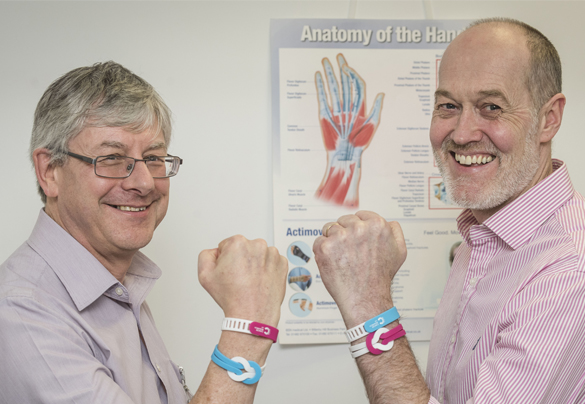 A patient who was given only 12 months to live four years ago has teamed up with his consultant to help launch a national campaign for Cancer Research UK.
Adrian Webb is so grateful for the pioneering treatment that saved his life, he's joined forces with Dr Neil Steven to help Cancer Research UK raise funds in the run up to World Cancer Day. The pair are calling on people to wear the charity's Unity Band with pride on Sunday 4 February.
Dr Steven, Deputy Clinical Director of the Cancer Research UK Clinical Trials Unit at the University of Birmingham, said he hoped people would back the campaign to raise vital funds for life-saving research projects: "Adrian is living proof of how far research has come in recent years. But there is still so much more to do.
"Every day, around 85 people are diagnosed with cancer in the West Midlands so by wearing a Cancer Research UK Unity Band, people can show solidarity with those affected by the disease.

"As a cancer consultant, I know first-hand the impact the disease has on individuals and families. That's why I'm inviting everyone to be part of a movement that can help make a real difference to so many people's lives."

Last year, Cancer Research UK spent £8 million on research in Birmingham.
With an expert team of over 140 cancer researchers, the Cancer Research UK Clinical Trials Unit currently has more than 140 active clinical trials across a range of cancers, including breast, lung, skin, sarcoma, blood, and head and neck cancers.
Adrian, a music distribution manager from Netherton, Dudley, was diagnosed with skin cancer in September 2012 after his wife, Michele, noticed a mole on his back had changed colour. He received surgery and radiotherapy but the cancer quickly spread to his lungs, liver, spleen, bowel, and spine.
"I thought it was all over," said Adrian, who was treated at Queen Elizabeth Hospital Birmingham. "But I'm a positive person so once I'd stopped blubbing, I just wanted to get on with treatment as quickly as possible.
"I was fortunate enough to be given three brand new drugs over the course of the following two years and, incredibly, I can now say I'm in remission.
"I don't know what the future holds but, for now that means I'm cancer free. I have no doubt that Dr Steven and the hospital's skin cancer team saved my life."
Since his diagnosis Adrian has raised nearly £16,000 for Cancer Research UK because he feels so passionately about the power of research.
"Thanks to research I'm still here today, enjoying my family and doing all the things that are so dear to me," added Adrian, who has a daughter Amelia, 22, and a son Josh, 25.
"That's why I want everyone to wear a Cancer Research UK Unity Band on World Cancer Day – it's a fantastic opportunity to raise money for Cancer Research UK's life-saving research. Just by wearing a Unity Band, everyone can help make a real difference to people with cancer."
Cancer Research UK's Unity Band features a classic reef knot design to symbolise the strength of people coming together to unite against cancer.
The bands are available in three different colours – pink, navy and blue – and can be worn in memory of a loved one, to celebrate people who've overcome the disease or in support of those going through treatment.

One in two people born after 1960 in the UK will be diagnosed with cancer at some point in their lifetime and although survival has doubled since the early 1970s, Cancer Research UK needs everyone to act right now to help this progress continue.

Paula Young, Cancer Research UK's spokesperson in the West Midlands, said: "Making a donation and wearing a Unity Band is a simple, easy way to help fund vital research.

"We need everyone to join together and back our doctors, scientists and nurses who are working on the front line to beat cancer every day. More Unity Bands worn means more research, more treatments and more cures."

Being marked on Sunday 4 February, World Cancer Day is designed to raise awareness of cancer and to promote its prevention, detection and treatment.