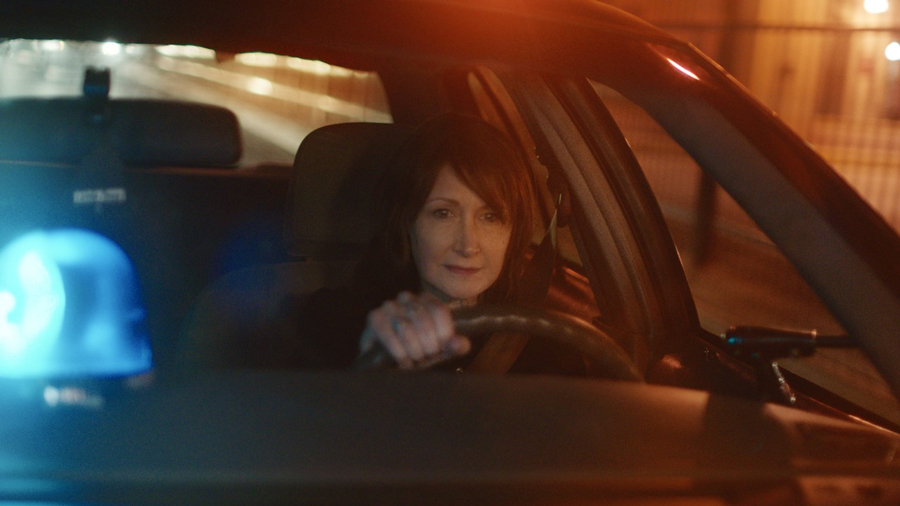 A University of Birmingham academic, Professor Lisa Bortolotti, has applauded the director of the new feature film Out of Blue, Carol Morley, for challenging the widely-held notion that mental illness is a wholly damaging condition that defines the person experiencing it.
The film is a neo-noir detective story, a metaphysical mystery revolving around contemporary Atlanta and the mysteries of the universe. It stars Patricia Clarkson as female homicide detective Mike Hoolihan. When she investigates the shooting of leading astrophysicist and black hole expert, her quest for the truth destabilises her view of the world, and herself, and she is affected in ways she struggles to comprehend.
Together with two other experts, Professor Bortolotti acted as a consultant on the film, which is based on the Martin Amis novel 'Night Train' and is backed by BFI, the BBC, and the Wellcome Trust. Professor Bortolotti gave advice on the screenplay and on the first cut of the film.
Professor Bortolotti's research focuses on the costs and the benefits of behaviours that society tends to view as marks of mental illness. Her project, PERFECT, funded by the European Research Council, also examines the nature of the often negative and implicit stereotyping that characterises our interactions with people who have a psychiatric diagnosis.
In Out of Blue Carol Morley chooses to portray Mike's experiences as being part of Mike and contributing to her growth as a person.
Out of Blue will receive its European premiere just days after World Mental Health Day on 10 October 2018. This is a day for global mental health education, awareness and advocacy against social stigma. It was first celebrated in 1992 at the initiative of the World Federation for Mental Health, a global mental health organisation with members and contacts in more than 150 countries.
Professor Bortolotti says,
"On 13 October 2018, Out of Blue premieres at the London Film Festival, and I feel it will be a force for good in bringing about a much-needed change in how society views mental illness and those experiencing it. The film makes a very powerful case for seeing Mike as a person, not as a brain stuck in a body. In the movie, the whole of her experiences contribute to her failures and achievements, showing how mental health struggles can be at the same time debilitating and enlightening.
"Many people experience mental health struggles at any one time and we all have a mental health to take care of. People who have serious mental health struggles can succeed in life in spite of them, and even succeed in some contexts because of their mental health struggles, and Mike's story demonstrates this. When we learn that mental health struggles are not just a glitch that needs to be fixed, then maybe we won't need a World Mental Health Day."
Carol Morley adds;
"It was very important to me in making Out of Blue that the experiences Mike goes through are manifested as ones that are not easily pigeon-holed or defined. For me, so many popular representations of mental health become quite simplified, and I felt that I wanted to create a person that was undergoing something that was mysterious to her, and not easily categorised to herself or others.
"I think there can be the instinct to want to diagnose a mental health condition, so that we can feel we are in control somehow, either as the person experiencing it, or to an outsider. But living with and surviving mental health experiences are likely to be far more complex.
"What I wanted to achieve in the film was to be authentic to repercussions of traumatic and psychological lived experiences, but also to take Mike on a journey of discovery, so that her experiences are not merely ones of suffering, but they actually allow her to see herself in a different light. Instead of remaining in the dark - her difficult experiences actually bring her into the light.
"I guess it was important for me not to just create on film an entirely threatening and frightening experience of mental health difficulties! In this way, I wanted to give hope, and emphasise they are an everyday part of life and our lives - and are something that we can learn to live with, and can sometimes, if given the opportunity to be explored and not stigmatised, help us live more meaningful lives."
For more information, please contact Dominic Benson, Deputy Director of Communications or on +44 (0)121 414 5134.
Out of Blue will be released in UK cinemas by PICTUREHOUSE in 2019.

The University of Birmingham is ranked amongst the world's top 100 institutions. Its work brings people from across the world to Birmingham, including researchers, teachers and more than 6,500 international students from over 150 countries.