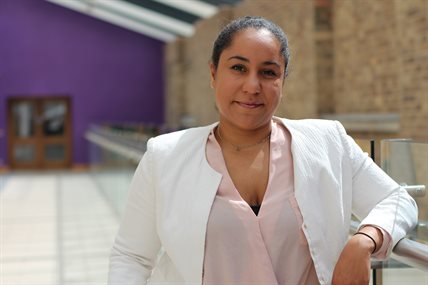 University of Birmingham researchers are leading the way with a ground-breaking role to enable more children with the rare cancer neuroblastoma to access potentially life-saving clinical trials more quickly.
In the first dedicated position focusing on a single childhood cancer, Dr Emmanouela Gbandi has been appointed as the Solving Kids' Cancer Senior Trials Coordinator for Neuroblastoma at the University of Birmingham's Cancer Research UK Clinical Trials Unit (CRCTU). It's hoped that the success of this role will inspire similar future initiatives. Charity Solving Kids' Cancer (Europe) is funding the role with £277,410 over five years.
Neuroblastoma is classed as rare, with just 100 children diagnosed in the UK every year. Many of these children rely on clinical trials as a way of accessing innovative therapies – particularly those diagnosed with the high-risk form of the disease which may not respond to standard treatment and often returns after treatment has been completed.
There is a real and urgent need for more clinical trials to be delivered for children with neuroblastoma. Despite involving the most intense treatment regime of all cancers, only 1 in 3 children diagnosed with high-risk neuroblastoma survive. In the UK, a child dies from neuroblastoma every 10 days on average. Furthering research through clinical trials means that the scientific understanding of the disease is increased while offering potentially life-saving treatment options to those children who are affected.
Dr Gbandi is liaising between the key groups right from the point of designing the trials through to when children are taking part in a trial in hospital. This includes working very closely with the National Cancer Research Institute's Children's Cancer and Leukaemia Clinical Study Group and its neuroblastoma sub-group, which comprises of leading researchers responsible for designing, launching and running clinical trials in the UK.
By managing and coordinating the portfolio of neuroblastoma clinical trials from CRCTU, she will both increase the capacity of the clinical trials unit to deliver more trials for children with neuroblastoma in the UK and internationally and ensure the process is more efficient.
She said: "Being dedicated to trials for a particular type of childhood cancer means that I can develop specialist knowledge, spot synergies between trials and troubleshoot any problems quickly. We can't rush clinical trial regulations but we can work in a more integrated way to streamline the process and understand the intricacies of the disease so that we can design better trials. Being close to and actively involved with the families and the charity is immensely rewarding as it helps me see the real impact of what research can do."
Due to the small numbers of children affected, international collaboration is essential to open meaningful clinical trials that are designed to bring new therapies to children. This involves cooperation from researchers, hospitals, pharmaceutical companies and regulatory bodies across the UK, Europe and worldwide.
Stephen Richards, CEO of Solving Kids' Cancer (Europe), said: "It's an extraordinarily complex process, meaning it can take years for clinical trials to become available. We must speed this up because it's time that children with high-risk neuroblastoma simply do not have. For parents, the waiting and hoping is agonising.
"Treatments are gruelling and we need clinical trials to find the most effective options for survival and that minimise side effects. It will make a tangible difference in ensuring that more children with neuroblastoma in the UK are able to access the trials they desperately need, more quickly."
Since Dr Gbandi started her role in December, she has taken over responsibility for overseeing four current high-risk neuroblastoma trials and advised on improving and delivering a further planned trial, details of which should be available soon.