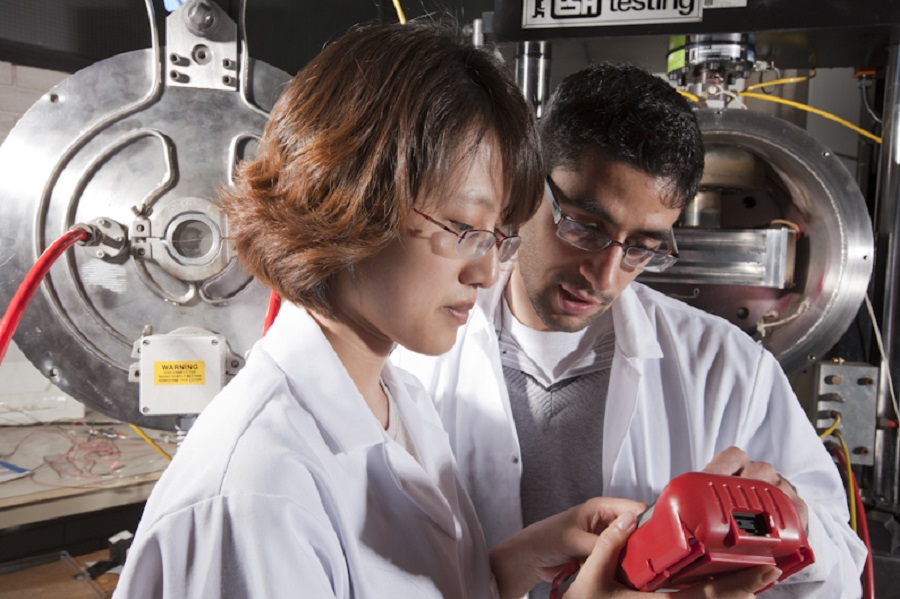 The University of Birmingham has been awarded a slice of £5.5 million funding for a project to improve equality, diversity and inclusion in engineering and physical sciences.
Birmingham is one of 11 universities that have been funded by the Engineering and Physical Sciences Research Council (EPSRC) through the Inclusion Matters call, the first initiative of its kind which has been launched as part of the collective approach by UK Research and Innovation (UKRI) to promote equality, diversity and inclusion.
Called 'Challenging Different Forms of Bias in Physical Sciences and Engineering Research', the project is being led by Professor Tim Softley, Pro-Vice-Chancellor for Research and Knowledge Transfer at the University of Birmingham.
The £531,287 project is also being carried out in collaboration with Aberystwyth University, University Hospitals Birmingham NHS Foundation Trust, and Vitae, a global leader in supporting the professional development of researchers.
Programme Director Professor Jon Rowe, Director of Research at the University of Birmingham's College of Engineering and Physical Science, said: "The University of Birmingham is committed to increasing our representation of academics from ethnic minority backgrounds and female academics.
"It is not yet fully understood why academics from these groups struggle to progress in their careers. We are delighted to participate in this important collaboration and investigate the underlying causes.
"We are mindful that previous attempts at addressing such imbalances have not been successful, so we are investigating new ways of understanding how to support progression of our female and ethnic minority colleagues.
"Activities will include looking at how the quality and value of academics' work is assessed in promotion processes and in the Research Excellence Framework (REF), to understand where the sources of bias arise.
"Questions such as 'Is there a bias when the gender of the academic is known?'; 'Is it the result of the group dynamic of a panel of assessors?'; and 'Are women encouraged to work in particular research areas, perhaps those outside of STEM subjects?' will also be addressed.

"At the University of Birmingham, we will trial some innovative interventions such as 'reverse mentoring', where a junior BAME woman coaches a senior male, white professor, and empowering academics to challenge senior-level decisions, with appropriate backing and support.
"We will share best practice between our partner organisations, and particularly look forward to working with the NHS trust, which has faced similar challenges with career progression. We will roll out the lessons learned via our national networks; develop training programmes; and feed into the equality and diversity agenda for the upcoming REF."
Dr Alison Wall, EPSRC's Associate Director, Building Leadership, said: "The Inclusion Matters call projects display ambition, creativity and a commitment to addressing the pressing equality and diversity issues facing engineering and the physical sciences.
"Through new research, innovative approaches and a broadening of activities, they will inform and shape significant cultural change across institutions and share their learning with the whole sector.
"By furthering equality, diversity and inclusion we want to ensure that researchers from all groups are able to fulfil their talent and ambitions."
Professor Jennifer Rubin, UK Research and Innovation (UKRI) Executive Champion for equality, diversity and inclusion, said: "UK Research and Innovation is committed to furthering equality, diversity and inclusion for both our staff and for the research and innovation sector more widely.
"The Inclusion Matters initiative illustrates the ambitious, evidence-based approach that we will take across UKRI to strengthen equality, diversity and inclusion across the sector.
Professor Patricia Thornley, of Aston University, and one of the two Chairs of the panel which assessed the applications, said: "Anyone who has recently walked into a university engineering department or STEM employer knows that the workforce does not reflect the UK's wider population.
"This programme goes beyond previous initiatives to improve understanding of what actually works in improving diversity and deliver an evidence base. It focuses on delivering cultural change and such radical transformation requires deep institutional commitment.
"I was really impressed by organisations that didn't shy away from uncomfortable observations and showed commitment to addressing underlying issues.
"At a time when scientists and engineers are radically redesigning our energy and transport systems and reimagining the digital economy, inclusion really does matter and this programme can help turn that commitment to real change."
For further information please contact Emma McKinney, Communications Manager (Health Sciences), University of Birmingham, tel: +44 (0) 121 414 6681, or contact the press office out of hours on +44 (0) 7789 921 165.
The University of Birmingham is ranked amongst the world's top 100 institutions. Its work brings people from across the world to Birmingham, including researchers, teachers and more than 5,000 international students from over 150 countries.
The Engineering and Physical Sciences Research Council (EPSRC) is part of UK Research and Innovation, a non-departmental public body funded by a grant-in-aid from the UK government. For more information visit https://epsrc.ukri.org EPSRC is the main funding body for engineering and physical sciences research in the UK. By investing in research and postgraduate training, we are building the knowledge and skills base needed to address the scientific and technological challenges facing the nation. Our portfolio covers a vast range of fields from healthcare technologies to structural engineering, manufacturing to mathematics, advanced materials to chemistry. The research we fund has impact across all sectors. It provides a platform for future UK prosperity by contributing to a healthy, connected, resilient, productive nation.
University Hospitals Birmingham NHS Foundation Trust runs the Queen Elizabeth Hospital Birmingham, Birmingham Chest Clinic, Heartlands Hospital, Good Hope Hospital, Solihull Hospital and various community services across the region. The Trust has regional centres for trauma, burns, plastics, neurosciences, dermatology and cancer. It also has centres of excellence for vascular, bariatric and pathology services, as well as the treatment of MRSA and other infectious diseases. We also have expertise in HIV/AIDS, premature baby care, bone marrow transplants and thoracic surgery. UHB has the largest solid organ transplantation programme in Europe and runs Umbrella, the sexual health service for Birmingham and Solihull. It is also home to the West Midlands Adult Cystic Fibrosis Centre and a nationally-renowned weight management clinic and research centre. The Queen Elizabeth Hospital Birmingham is a Major Trauma Centre treating the most severely injured casualties from across the region. The hospital's single site 100-bed critical care unit is the largest in Europe. The Trust hosts the Institute of Translational Medicine (ITM) and leads the West Midlands Genomics Medicine Centre as part of the national 100,000 Genomes Project. UHB is also proud to host the Royal Centre for Defence Medicine (RCDM) at the Queen Elizabeth Hospital Birmingham. The RCDM provides dedicated training for defence personnel and is a focus for medical research.