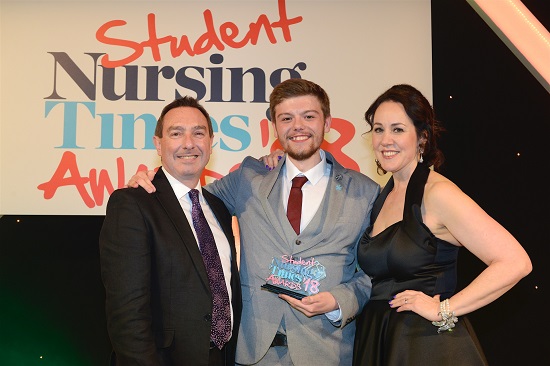 The School of Nursing is delighted to announce that 3rd Year BNurs Nursing student, Travis Norton, has won the award for 'Student Nurse of the Year: Adult' at the prestigious Student Nursing Times Awards.
The annual awards ceremony, which was held 26 April at the London Hilton on Park Lane, recognises the achievements of student nurses, mentors and universities around the UK. It is a record year for the School who had been shortlisted 8 times across the categories.
Speaking on his award, Travis says "I was shocked to win the Adult Student Nurse of the Year category however, I am so proud of myself and I couldn't have done it without the support I have had from other students and members of academic staff in the Nursing team, as well as those across the College of Medical and Dental Sciences. The speeches given by nurses made you feel really proud to have chosen nursing as a profession, and I think all nurses and student nurses should be proud of the job that we do, despite the sometimes difficult conditions which we work under.
"I hope me winning the award inspires other students to make the most of the opportunities we have whilst we are still students - ask to go to conferences, work with nurse specialists on placements, get involved in societies, step out of your comfort zone and to ask for help when you think you need it! I've been lucky to have received loads of support from the University, I was a college drop-out with poor confidence, low self-esteem and anxiety issues, but over the last three years I have really grown and gained so much confidence. None of it could have been achieved without the support I had. I owe so much to all of the nurses I have worked with, staff at the university and to the great people I've met on my course - I could never thank them enough."
The School of Nursing have now won Student of the Year Awards in the Adult, Children and Mental Health categories within the last four years, as well as Educator of the Year, won by Amelia Swift, Senior Lecturer in 2016.