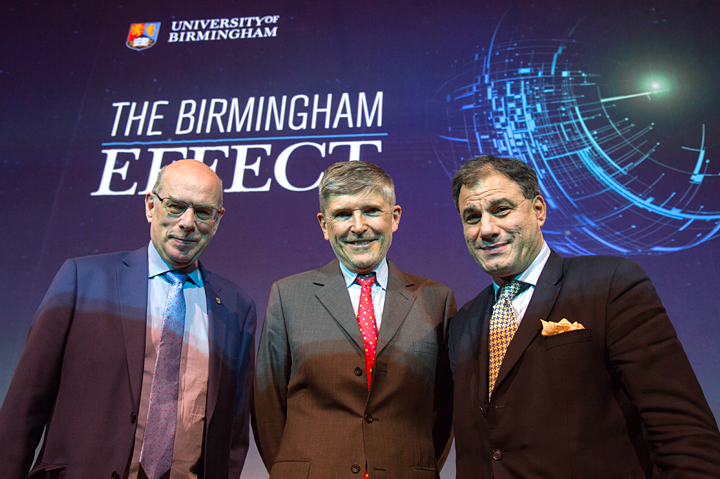 Guests from health, the arts, science, education, business and colleagues from local, regional and national government joined Lord Bilimoria, the University's Chancellor, and Professor Sir David Eastwood, Vice-Chancellor and Principal, for an evening on campus to discuss common challenges and opportunities for the region, and to hear about the incredible research and outstanding educational initiatives undertaken by the University of Birmingham.
This year's theme 'The Birmingham Effect' showcased the University's teaching, research and collaborations, and the positive effects they have across the region and globally. The University's pioneering research in Liver transplants, cultural engagement and new applications for Quantum Technology were featured during an evening that celebrated the Birmingham Effect by showcasing the how the University is working, through innovative partnerships, to change lives and society in the city and around the world.
From the world of motorsport, Nick Fry, former Co-owner of the Mercedes AMG Petronas Formula One Team, and former UK Government Business Ambassador, delivered the keynote address and shared his insight into creating global success.
Music performed by students from the University of Birmingham's Department of Music brought the formal part of the evening to a close with a creative take on a collaboration between The Barber Institute of Fine Arts and the School of Music. With images of A Dancer Ready to Dance, the Right Foot Forward by Edgar Degas and A (Changing) Portrait of the Countess Golovin, by Vigée-Lebrun on display, a group of University of Birmingham composers captured in sound their reaction to the visceral power of art.
Guests also enjoyed the opportunity to network and to learn about more of the University's research. Students from the University's motor racing teams UBRacing and UBEcoRacing, were on hand to meet guests, alongside exhibition displays from each of the University's five Colleges; the University's 'Change 10,000 lives' campaign, organised by the Development and Alumni Relations Office; Business Engagements' '10 ways we are transforming Business'; and The Green Heart, showing how the campus is being transformed.