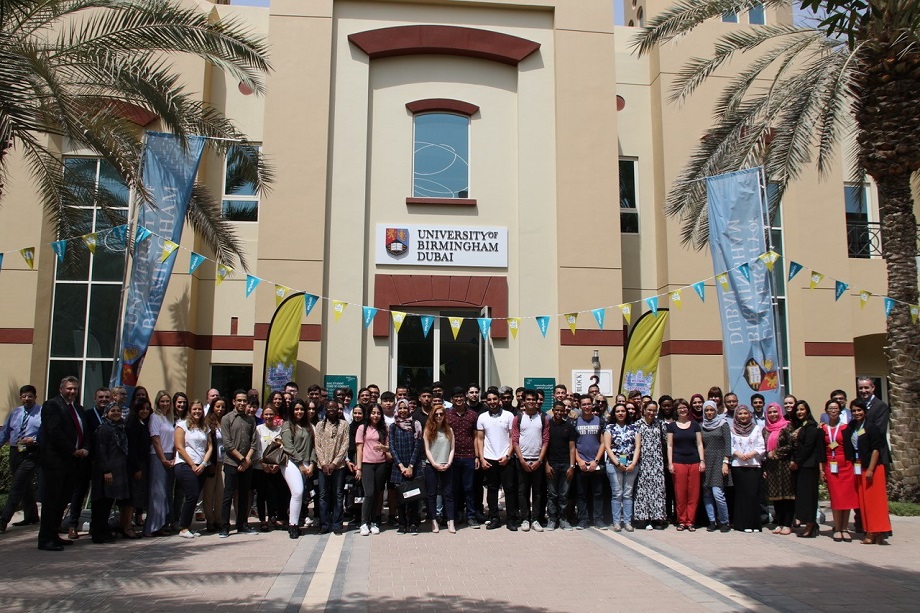 The University of Birmingham Dubai has opened its doors to the first cohort of students at a special welcome event.
Provost Professor Glyn Watson formally welcomed students to the University to begin a packed first day of activity marking the start of Welcome Week.
Students and staff were joined by renowned Dubai artist Jennifer Simon to create a colourful, large-scale artwork based on a 'skyline' of Dubai and Birmingham landmarks, which will remain on the Dubai campus as a memento of the occasion.
New students had their first opportunities to meet others on their study programmes with 'ice-breaker' workshops for those studying Foundation courses, Computer Science, Business Studies, Mechanical Engineering, Economic and teacher training.
Lilly Schwarzenbach – MSc Computer Science, said: "I feel an amazing sense of adventure and community it's has been great meeting my fellow peers today. The University of Birmingham Dubai offers a quality education combined with an innovative MSc Computer Science programme. I am looking forward to the next few months."
Malika Chandoo – PGCE Secondary Mathematics Education (Teaching Studies) said: "It feels great to be part of this historic moment for the University of Birmingham Dubai and to be amongst the first students to study here. I am excited to embark upon this new stage of my career with the University of Birmingham Dubai and look forward to the journey that lies ahead."
Students also had the opportunity to take a campus tour as well as meeting a range of University representatives ready to help them get to grips with all aspects of student life – from help with their accommodation to getting their IT accounts up and running.
Professor Watson commented: "This is a landmark day for both the University of Birmingham and Higher Education in the UAE. We are proud to be the first elite UK Russell Group university to welcome students to a campus in Dubai.
"The students beginning their education journey with us in Dubai will enjoy the highest quality academic experience to stretch and challenge them, whilst gaining the skills that will help them to stand out in a competitive, global employment market.
"They will be taught by outstanding academics; experts in their fields who are shaping policy, influencing society, and changing lives around the globe. We are excited to welcome them to a global top 100 university, which counts 11 Nobel Prize winners among its former staff and students."
The University of Birmingham Dubai offers degrees that will be taught, examined and accredited to the same high standards as those delivered on its UK campus and are approved by The Knowledge and Human Development Authority (KHDA).
The University of Birmingham is ranked amongst the world's top 100 institutions, its work brings people from across the world to Birmingham, including researchers and teachers and more than 6,500 international students from over 150 countries.
The University is renowned for its research excellence and its researchers have received 11 Nobel Prizes. From pioneering organ transplants, discovering gravitational waves and furthering understanding of Shakespeare, to developing cures for cancer, advances in robotics and revealing the structure of DNA, the University has been at the forefront of some of the most ground-breaking discoveries of the last 100 years.
Birmingham is acknowledged for producing globally employable graduates and was chosen as the Times and Sunday Times University of the Year for Graduate Employment 2016. It is the second most frequently targeted UK university for the top employers looking for graduate recruits, according to High Fliers Research.
Opening its Dubai campus marks the latest phase in the University of Birmingham's global ambition and builds on the University's international teaching activities in Singapore and China, and its extensive international research collaborations.
The University of Birmingham international community is made up of more than 300,000 alumni.
The Russell Group represents 24 leading UK universities which are committed to maintaining the very best research, an outstanding teaching and learning experience and unrivalled links with business and the public sector.
Jennifer Simon was born in the UK, grew up in Australia and has lived in the United Arab Emirates since 2000. She first emerged on the Abu Dhabi Art Scene in 2007 with her successful solo exhibition titled "Lifescapes". She is widely known for her unique depiction of global urban cityscape's, which consist of large canvas's awash with bright colours outlined in black, or bold black and white compositions with a splash of colour.