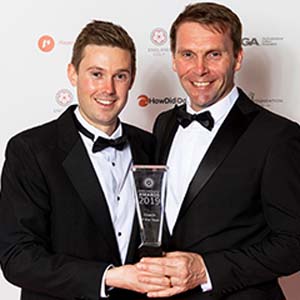 Aaron Lansberry has won the coveted England Golf Coach of the Year Award.
Aaron was presented with the award at a black-tie dinner on 21 March. Haron graduated from the Applied Golf Management Studies course in 2011, and has gone on to become a leader in the field of Golf Coaching.
The work of fellow graduate Philip Akers was also recognised and he was judged as one of the runners up for the award.
Lansberry, who was also a finalist in 2018, commented: "It's lovely to win, it's the cherry on the cake and it backs up all the hard work we do."