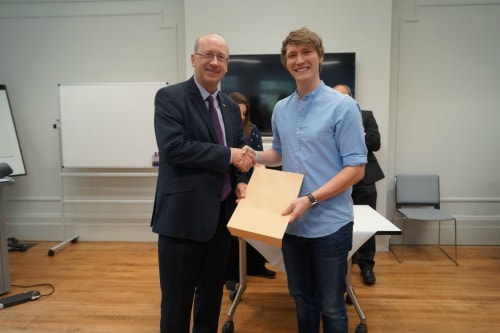 Andy Sanderson, PhD student with CPR Spine within the School of Sport, Exercise and Rehabilitation Sciences, has won the 2019 Michael O'Rourke prize for the best PhD Publication from the College of Life and Environmental Sciences.
The Michael K. O'Rourke Best Publication Award is a prestigious award that recognises outstanding achievement in the publication of a postgraduate researcher's research. One prize is awarded per College to recognise a publication with a postgraduate lead author which has had significant impact.
Andy's paper, entitled 'Variation in the spatial distribution of erector spinae activity during a lumbar endurance task in people with low back pain' was published in the Journal of Anatomy in January 2019. This paper used high-density electromyography to measure muscle activity in the lower back in individuals with and without low back pain (LBP) identifying several differences in how the muscles were used between the groups. The results indicate that that people with LBP use a motor control strategy which is less biomechanically favourable which may partly account for the poorer endurance of their trunk muscles. Not only do these unique findings enhance our understanding of the changes in muscle activity in people with low back pain, they provide direction for the development of novel exercises which can be used to manage people with LBP.
Paper - https://onlinelibrary.wiley.com/doi/full/10.1111/joa.12935