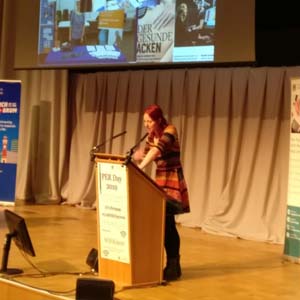 CPR Spine PPIE, led by Dr Nicola Heneghan, and supported by Andy Sanderson and Rebecca Orleans were recognised for excellence and innovation in the newly developed 'Light of Understanding Award' this month.
The award, which went to a group from Psychology, was presented by Professor Alice Roberts at the Public Engagement with Research day at the Bramall Music Centre on Friday 5th April.
This Award recognises Excellence in Public Engagement by researchers at the University of Birmingham. We received a special acknowledgement by Prof Alice Roberts for our work in PPIE, specifically commenting on our multifaceted approach to PPIE and the way in which PPIE is embedded with all aspects of our research and teaching activity.
The Centre of Precision Rehabilitation for Spinal offers a unique and innovative multifaceted framework of PPIE with:
a dedicated Spine Register (database) of individuals from across the UK who are able to participate in our research
a PPIE group who meet termly where PGR and staff can pitch project ideas to get feedback, share early findings on completed studies
Individuals with spine complaints (trauma, post surgery, non specific etc.) are included within study teams/steering groups e.g. Trauma Project, FuJourn
Community based projects to extend our reach including articles for Buzz, Community Buzz, HEM Life
Social media (Twitter) to promote our research and PPIE events
If you would like to join the Spine Register or would like further information regarding our PPIE please contact us at cprspineregister@contacts.bham.ac.uk