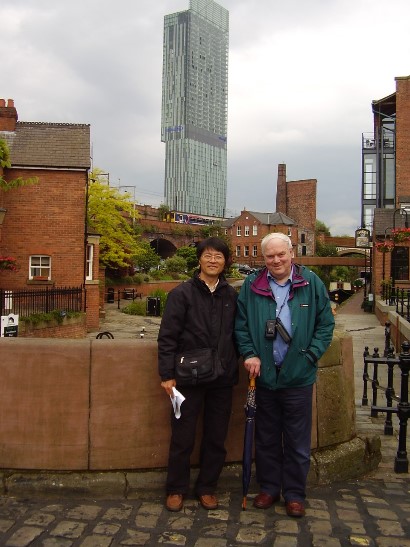 A true internationalist influencing housing and urban renewal policy and practice.
Chris was an outstanding academic with a keen awareness of the importance of engaging with policy and practice, particularly in the fields of urban renewal and social housing. He delivered professional development programmes with leading institutions in those fields in the UK and internationally, notably in Hong Kong, Korea and Japan. He co-authored several influential books including Housing Policy and the Housing System and Housing and the New Welfare State: Perspectives from East Asia and Europe.
Chris was a friend to many locally-based housing associations during their rapid growth as a social movement to become mainstream housing providers but he retained a critical detachment and recognised that 'big is not always beautiful'. He chaired Mercian Housing Association and was a board member for over 20 years between 1984 and 2005. He worked closely with Birmingham City Council's Urban Renewal Team in the 1980s and 90s when it was a European front-runner in this field. He remained an advocate of urban renewal, recently reminding UK and European audiences of the adverse consequences for public health and social equality of not continuing to renew our older housing stock.
Since 'retirement', Chris continued to make a valued contribution to the Housing and Communities Research Group (HCRG). In this period, his influential publications included Renewing Europe's Housing, Good Housing: Better Health, and Delivering Healthy Housing. This work-stream attracted interest from Parliamentary Select Committees and influenced the 2018 White Paper on Healthy Homes and Buildings.
Chris has welcomed and mentored many overseas visitors to the University, especially from Japan and Korea. Chris was an enthusiastic member of the European Network for Housing Research (ENHR), attending annual conferences and coordination committee meetings, and winning friends across the continent with his understated diplomacy. Until 2018, he acted as a Coordinator of the Housing in Developing Countries Working Group.
Above all Chris was a good man, and a marvellous colleague as so many of the tributes received this week acknowledge. The University of Birmingham is indeed fortunate to have employed such a true internationalist whose work on housing and urban renewal made such a difference in Birmingham and across the world, and built such a network of friends and followers. As one colleague put it, 'It's hard to think of a world without Chris'.
David Mullins, Emeritus Professor of Housing Policy, Housing and Communities Research Group. November 29th 2019
What a wonderful colleague. It's hard to think of a world without him. Pat Niner, CURS
Diplomacy and dinners are something I associate with Chris and his kindness and genuine curiosity. Chris was also understated, droll, unexpectedly irreverent and great at putting people at ease. Moyra Riseborough, CURS
Very sad news. I will remember Chris as a very kind man who always showed a genuine interest in people. May he rest in peace. Darinka Czischke, ENHR, Delft University of Technology, Netherlands
Chris was a very good person indeed. I remember visiting him, getting from him a nice tour around the channels and of course a long chat. May he rest in peace. Ivan Tosics, ENHR, Metropolitan Research Institute, Hungary
Chris was external examiner to one of my PhD students two years ago. He provided exactly the supportive atmosphere that allowed the student to perform at her best in the viva, whilst also making constructive suggestions for improvement - as I knew he would. Mark Stephens, ENHR, Herriot Watt University, Scotland
This is very sad news indeed. Chris has made an immense contribution to housing policy and research. A very kind and remarkable man. My thoughts will be with him and his friends and family during the celebration service on November 29th. Gerard van Bortel, Delft University of Technology, Netherlands
This is very sad news. I remember Chris as a very supportive and kind colleague. This is a big loss for HCRG. Richard Lang, Johannes Kepler University, Linz, Austria
Chris always offered assistance and advice to students from Hong Kong. Many had benefited much from his help while in Birmingham. K Y Lau, Adjunct Professor, City University Hong Kong
He was such a great friend and excellent teacher/supervisor to younger researchers and students from East Asian countries. Like myself, I am sure many colleagues and friends in the housing circle in Asian will miss him dearly. Prof Ya Ping Wang, Glasgow University
My memory is still clear with the time when Chris was invited to my home in Birmingham and had Korean meals and shared amusing stories with my family in 2009. Chris was an awesome person who has a deep consideration and love for students. Seoughee Cheon, Seoul Public Housing Agency, Korea.