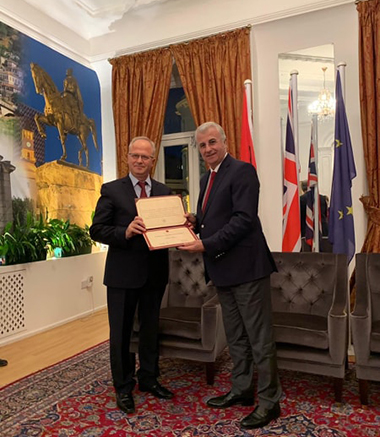 Congratulations to Dr Gëzim Alpion from the School of Social Policy who was awarded the Albanian Nation's Ambassador Award in London on 2 October.
Ambassador of Albania to the UK, His Excellency Qirjako Qirko, handed over the Albanian Nation's Ambassador Award, bestowed by the Prime Minister of Albania Edi Rama and the Minister of State for Diaspora Pandeli Majko, to Dr Gëzim Alpion for his research on Mother Teresa.
On giving the award, Ambassador Qirko said:
"Dr Alpion's 20 years of scholarly dedication to Mother Teresa's life, work and legacy; his lobbying for the canonization of Mother Teresa from 2014 to 2016; and his ongoing lobbying for the construction of the Arbëri Highway, which will shorten considerably the distance between Skopje, Mother Teresa's birthplace, and Tirana, and will benefit Albania, as well as Macedonia, Kosova and Bulgaria. Dr Alpion's contribution in this respect is valued by the Government of Albania."
Dr Gëzim Alpion has since been invited by the President of Albania Ilir Meta to speak at the "Religion as an Instrument for Peace" Conference organised in coordination with the U.S. State Department in Tirana on 18-19 November. This event will bring together heads of states, religious leaders and scholars of religion from Western Balkans and beyond and will see Gëzim discuss Mother Teresa's contribution to peace and his new book Mother Teresa: The Saint and Her Nation, which will be published by Bloomsbury Academic in 2020.