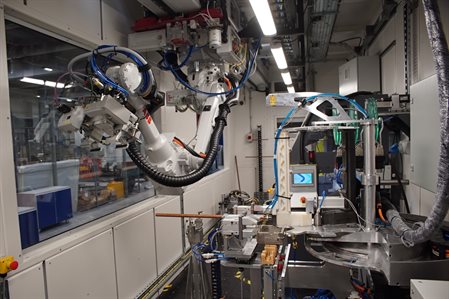 For the first time ever, the Factory in a Box (FIAB) demonstrator will be transported from its home at the Manufacturing Technology Centre (MTC) to the upcoming Smart Factory Expo on 13-14th November in Liverpool.
The FIAB concept was created by applying research from the Birmingham Energy Institute. Supported by the Energy Research Accelerator (ERA) and delivered by the Coventry-based MTC, the FIAB is a rapidly deployable, remotely managed, modular manufacturing supply chain solution enabled by industrial digital technologies.
FIAB manufacture is a rapid route to market for products with a faster return on investment (ROI) on its manufacturing innovation and new disruptive business models for the supply chain.
The FIAB has been developed as part of the Smart Manufacturing Accelerator (SMA); a framework for delivering integrated manufacturing and supply chain solutions developed by the MTC and the ERA programme, funded by Innovate UK.
The Smart Factory Expo, which takes place at the Exhibition Centre Liverpool, forms part of Digital Manufacturing Week and will showcase manufacturing agility, innovation and thinking. With over 200 presentations during both days and 600 leaders and innovators in attendance, the exhibition will provide essential insights on how organisations maintain their competitive edge.
At the event the FIAB demonstrator will show businesses how they can grow through the adoption of smart manufacturing technologies.
During the event, live demonstrations of the Factory in a Box will take place on stand D100 (day one - 11:00 and 15:00 & day two – 10:30 and 13:30). Visitors will also get the opportunity to speak with engineers to find out more about how the FIAB was developed and how innovative manufacturing system solutions can be deployed to resolve supply chain challenges for businesses.
To find out more about the Factory in a Box, delivery partners and the SMA, visit the Smart Manufacturing Accelerator website.