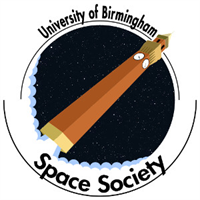 Yeah! That's right…now the University of Birmingham has its own Space Society! Founded in September 2019 with the intent of bringing the opportunity for students to share their passion and love of space with others and promote activities related to space exploration.
Let's face it…enthusiasm for space exploration is on the rise. People have started to believe again on the braveness of Humankind and so there couldn´t have been better time for the Space Society to arrive at the University. If you want to follow a career in space, we promise you some great opportunities such as competitions and workshops. These will enable you develop innovative ideas and engage with industry experts in a variety of disciplines by challenging yourself while working in an amazing team. Also every year we have a vast list of roles to be undertaken in our committee, which will prove invaluable when you start looking for a job.
Our committee is composed of 11 students and during this term our efforts focused on the most essential aspects of every new society. We've been working on some unexpectedly technical tasks, like setting up a bank account, and others are more fun, like organising social events. We try to meet every week so that every member keeps updated on what others are doing and the information amongst us flows as it should. We also had a great time at our first EPS Societies Fair in October, promoting the society, meeting new students joining the University, and encouraging lots of new members. If you feel like being part of the creation of something new, we still have roles to offer in the committee. Feel free to join us!
During our first ever term, our socials included watching the Star Wars film together, watching a live transmission of Space X's Falcon 9 launch and a presentation by our President and Society founder, Ed Taylor, and ending in a lovely pub in Selly Oak. Next term we're planning more meetings, pub quizzes and, of course, our Annual General Meeting which will conclude our very first year. This will be a very special and important moment for all of us because it's when the new committee will be elected and where every member will have his opportunity to make a difference in the Society.
We've launched a Rocket Team! Their aim this year is to compete in the UKSEDS National Rocketry Competition. They're a small undergraduate team of 7 members aiming to deliver a full rocket launch by Easter and iterate through these designs to reach 1,000m.
This provides unique hands-on engineering practice as well as design experience beyond their degrees. They have built their test stand and are using it to develop a nozzle to produce supersonic flow from the exhaust.
The team developed their own test stand for the motor to test the force that the motor produces.
Partnering with the University of Illinois Space Society (ISS), we are taking part in this amazing competition which involves planning, in huge detail, a 30 days mission to Mars. The competition will take place in Florida, in the United States and is hosted by NASA.
Participants from Birmingham will travel to Florida but first, they will have to do their very own research in areas such as life support systems, propulsion and orbits, and will have to comprehensively plan a mission to Mars taking into account much of the things NASA engineers also work with.
This competition is an outstanding opportunity for students interested in space. NASA is often trying to find solutions for real space missions with the help of student's creative minds.
Once again, for the next year, we will still offer places to anyone who wishes to join, as well as many other competitions. Why don't you give it a try?
We're planning some huge events that will be announced in due course. Some of these may include amazing space lectures which will take place in the next academic year. We will always do our best to make these events free for Society members!
We continue to promote some exciting space exploration events all around the UK, which are great opportunities for space enthusiasts to network and learn. The National Student Space Conference 2020 will be held here at the University of Birmingham in March, where lectures will be held and some companies such as Lockheed Martin will be present. We're really looking forward to it!
We're also preparing to hold outreach events in local schools in an attempt to share our passion of space exploration to younger generations. If you feel like sharing the gloriousness of the subject that you love, this is also something that you can be part of.
So, all in all, I hope I´ve convinced you to join us. This is our first new year and even though we've done loads, we've not had the chance to do many of the things we want to and have a lot more planned for the future. Trust me, you will want to be there! Keep an eye on our Facebook or follow uobspacesoc on Instagram to keep track of what we're doing.
The members of UoB Space Society will take their next steps towards their future careers whilst contributing to their next giant leap forward as leaders in the space community.
Ad Astra!
João Barbot
Event Officer, Space Society