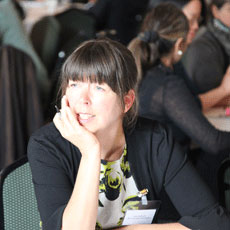 IRiS Director, Professor Jenny Phillimore has been selected for the Miegunyah Distinguished Visiting Fellowship Program 2020.
The program was established in 1993 by the University of Melbourne [https://www.unimelb.edu.au/], a longstanding strategic partner of the University of Birmingham, and invites distinguished academics from international institutions to visit the university and share their work. During her four week visit in July 2020, Professor Phillimore will give a lecture to large audience on 'Agency, adversity and adaptation: supporting refugee survivors of sexual and gender-based violence in countries of refuge'.
Her visit will facilitate completion of research outputs from IRiS' SEREDA Project which she leads in collaboration with academics from the Melbourne School of Population and Global Health, including the production of high impact journal articles and a co-authored book. The SEREDA Project is a major research initiative that is being undertaken across the United Kingdom, Australia, Sweden and Turkey by a multi-country research team. The Project uses a social constructivist framework to understand the incidence and nature of Sexual and Gender Based Violence (SGBV) experienced by women, men and child refugees who have fled conflict in the Levant Region.
In addition, whilst at the University of Melbourne, Professor Phillimore will be finalising a new comparative study addressing the social and structural determinants of poor migrant maternal health outcomes in Australia and the UK. She will be advancing discussions around setting up and hosting a joint doctoral programme between the two universities in the area of health social sciences. Professor Phillimore also intends to foster new relationships with academics at the University of Melbourne upon which to base novel new collaborative research.