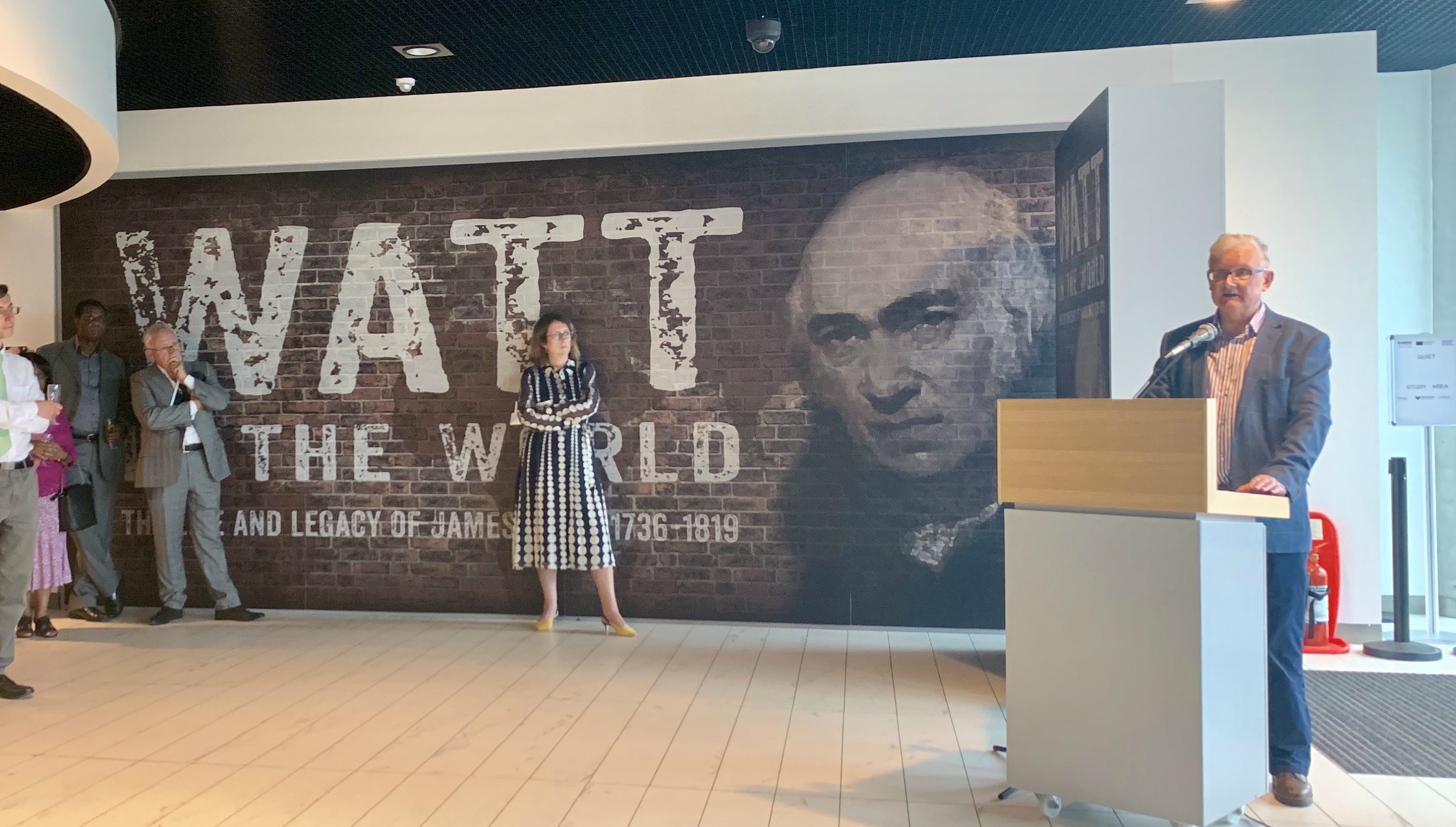 James Watt died on 25 August in 1819 at Heathfield Hall, near Birmingham. Born in Greenock, near Glasgow in 1736, he migrated to the West Midlands where his partnership with the entrepreneur Matthew Boulton enabled his improved steam engine to become commercially viable. Watt was buried in St Mary's, Handsworth, the local parish church, where in the 1820s his son, James Watt junior, commissioned a statue by the leading sculptor of his day, Francis Leggatt Chantrey, and built a chapel to house it. The monument was part Watt junior's 'filial project' to celebrate his father's memory. In 2019, 200 years after his death, James Watt is subject to renewed interest and commemoration in Birmingham and Scotland.
James Watt junior presented his father as a great inventor and scientist – the greatest industrial innovator of the late eighteenth century. Chantrey's statue was only the first of many which were installed in public spaces throughout the United Kingdom, including Westminster Abbey. Watt medals were coined, buildings and streets were named after him, biographies were written, artists painted his image and prizes were endowed in his honour. In the late nineteenth century, Watt's name was been given to a unit of power.
In Scotland, London's Science Museum and Birmingham, Watt is especially remembered. In Greenock, Glasgow and Edinburgh there are sites and objects linked with his life and the Kinneil Cottage at Bo'ness is the place where he built his first steam engine. The Science Museum contains Watt's workshop, which was carefully removed from Heathfield Hall when it was demolished in the 1920s. In Birmingham William Bloye's gilded statue of Watt and two of his collaborators in engine manufacturing, Boulton and William Murdock, will soon be relocated in front of the Library of Birmingham; the Smethwick Engine in Birmingham Museum's Thinktank's is the world's oldest working Watt steam engine and above the entrance to the Great Hall at the University of Birmingham, Watt's statue stands alongside other great men of the arts and science of Europe: Beethoven, Virgil, Michelangelo, Plato, Shakespeare, Newton, Watt, Faraday and Charles Darwin.
I have been researching on the work of this great man with international scholars, students and heritage professionals to reinvestigate and reinterpret Watt's life, significance and legacy in the twenty-first century. After his death, Watt became a secular saint who was presented as a determined, persistent and enlightened hero who brought numerous blessings to mankind through his improvements to steam technology. James Eckford Lauder's painting of 1855, 'James Watt and the Steam Engine – The Dawn of the Nineteenth Century', epitomises this vision.
Watt becomes more interesting and human, however, if he is studied in context. His Calvinist upbringing and childhood in the global port of Greenock shaped his mental world. His wives Peggy and Ann not only provided domestic support for their husband, but were central to his business activity and emotional well-being. Watt could not have invented and innovated without the involvement of many others: not only Scottish scientists in Glasgow and Midlands Lunar men such as Boulton and Erasmus Darwin, but also the hundreds of workers who helped to interpret his ideas to manufacture and construct working steam engines.
Studying Watt uncovers the ways in which upbringing, education and relationships shape individuals and innovation occurs. We can also learn how reputations are fashioned and transmitted to a wide public.
*Outcomes of Malcolm Dick's research and collaboration with others include the exhibition, 'Watt in the World' at the Library of Birmingham until November 2019, two books: The Power to Change the World: James Watt A Life in 50 Objects (edited with Kate Croft) and James Watt: Culture, Innovation and Enlightenment (edited with Caroline Archer-Parré).
**A special conference is also to be held at the University of Birmingham titled 'Rethinking James Watt: Innovation, Culture and Legacy' from 30 August to 1 September 2019).
***Full details of these and other events and activities can be found here.