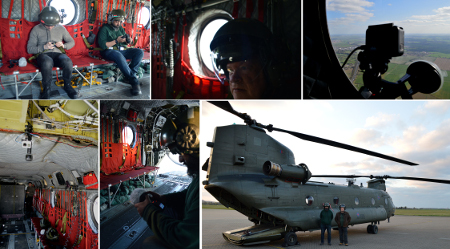 Director of HIT, Professor Bob Stone along with Research Fellows; Robert Guest and Vish Shingari were given permission to fly in a twin rotor Chinook aircraft, with the aim to collect audio and video recordings of a short flight.
The flight took the team south and west of the RAF Oxford base, overflying notable features including the Westbury White Horse and The Government Communications Headquarters (GCHQ) in Cheltenham.
Speaking after the flight, Professor Stone said: "We are immensely grateful for the support given to us by the RAF Benson Station Commander, his team and the personnel of twenty eight squadron. This has enabled us to experience first-hand, the sights, sounds, vibrations and smells of a Chinook in flight and record crucial footage to help improve the fidelity of our MERT training system. There is absolutely no doubt that this experience, together with those provided last year by the Royal Marines and Army, are critical to us being able to deliver a credible solution to technology-based training for our future Armed Forces personnel".
The HIT team positioned GoPro cameras on port and starboard windows in the rear cabin of the aircraft, plus a further GoPro camera and a Vuze XR 360 (panoramic) camera towards the rear of the cabin, providing views out of the helicopter ramp area. A hand-held sound recording system was used to record sounds of the entire sortie, from engine start-up and take off to engine shut-down. These media captures are used to develop "billboards" such that, when looking out of the virtual Chinook cabin in the HIT Team's Lab, the trainees see images and hear sounds that enhance the sense that they are inside an aircraft that is in flight.
Sponsored by the Royal Centre for Defence Medicine Developed by Professor Bob Stone and the University of Birmingham's Human Interface Technologies (HIT) Team, the Mixed Reality MERT trainer blends real-life, physical objects with detailed and dynamic virtual environments. This enables armed forces personnel to experience immersive life-saving casualty scenarios in a safe environment. The simulator began life in October 2016 and is expected to undergo its next major set of trials with multiple branches of the Armed Forces this summer.