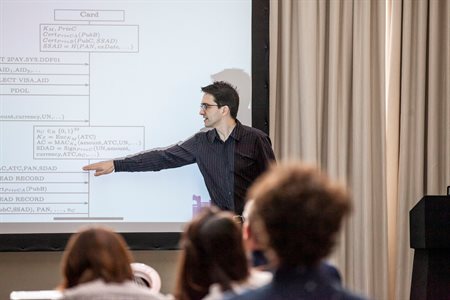 New Centre for Cyber Security and Privacy brings together industry, government and academia to solve challenges of our connected world
The University of Birmingham brought together experts in cyber security and privacy to learn from each other and work on solutions to a range of challenges, including protecting essential systems from cyber-attacks and preserving our privacy in a world of quantum computing.
The University invited guests to Birmingham on 18th September for the official launch of its new Centre for Cyber Security and Privacy. The Centre will expand on the work of Birmingham's longstanding Security and Privacy Research Group to produce impactful world-leading research in cyber security and privacy.
The event featured expert speakers from academia, industry and government, who spoke on the thematic areas of infrastructure and embedded systems, post-quantum cryptography, the changing nature of security and privacy in society and the cyber security skills gap.
Mark Ryan, Professor in Computer Security and Centre for Cyber Security Lead, said:
"Cyber security is an essential aspect of all the advances we make in technology, whether in machine learning, mobile technologies, communications or self-driving cars and trains. As those technologies evolve, the field of cyber security evolves too, as do the challenges of keeping our private information safe. The Centre for Cyber Security and Privacy will bring people together to develop solutions to some of the biggest challenges of our age."
Keynote speakers included:
Dr Cristiano Giuffrida, Assistant Professor in Systems Security and Reliability, Vu Amsterdam
Professor Kenny Paterson, Professor of Computer Science, Eth Zürich
Senior Representative, National Cyber Security Centre (NCSC)
Dr Joshua Schiffman, Research Scientist, Security Labs HP Labs
Guests came to the launch from around the world, including representatives from Facebook, Lloyds Bank, PwC, Huawei, KPMG, Honda, BAE Systems, Capgemini, HP, ETH Zurich, VU Amsterdam, University of Sheffield and the National Cyber Security Centre (NCSC).
To find out more about the Centre for Cyber Security and Privacy, you can visit our webpage.