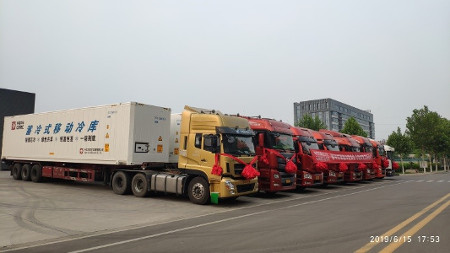 University of Birmingham experts have worked with one of China's biggest railway rolling stock companies to develop the world's first cold storage road / rail container. These first-of-a-kind "refrigerated" containers are now being delivered in China.
In December 2018 the University of Birmingham's Centre for Energy Storage announced that it had worked with CRRC Shijiazhuang, to develop the world's first shipping container using phase change materials (PCMs) that store and release cold energy. Six months later, CRRC Shijiazhuang have started to deliver the first order of 49 passively cooled containers to Yunnan Su Lida Agricultural Products Supply Chain Co., Ltd. These 49 containers are a performance-enhanced version, offering improved performance through optimisation from the 2018 commercially trailed units.
These "refrigerated" containers for integrated road/rail applications use PCM based cold storage technology, developed by Professor Yulong Ding and his team at the Birmingham Centre for Energy Storage in collaboration with CRRC Shijiazhuang. Once charged the technology can keep the interior of the container within a set temperature range for over one hundred hours. For example, if the set temperature range is 5-12 ᵒC, one charge could last ~140 hours; however, the duration can be increased to ~194 hours if the set temperature range is 0-5 ˚C. A full charge for a container can be achieved in less than two hours.
Compared with traditional technologies which rely on diesel-powered refrigeration, these PCM cooled freight containers have the advantages of constant temperature control, passive cooling, energy saving and environmental benefits. Furthermore, these containers can easily be transfer between trains and trucks, offering an enhanced flexibility across a supply chain.
Professor Yulong Ding, Director of Birmingham Centre for Energy Storage, said "We are delighted to see that our cold storage technologies start to make the commercial market, contributing to the 2050 net-zero carbon emission vision. We are working with our partners to extend the cold storage technologies to more applications"