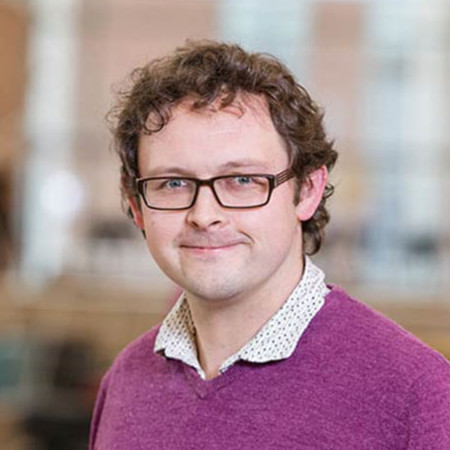 The aim of the role is to help increase the public's awareness of what Materials Science is and help to increase the uptake of Materials Science courses at undergraduate level. This post is funded by the Henry Royce Institute and is in collaboration with a group of nine Materials Science departments (known as the 'Discover Materials' group). Chris will be looking to develop the 'Discover Materials' website and to develop materials science activities for schools and science festivals.
Prior to this role, Chris completed his PhD in the School of Chemistry at University of Birmingham with Professor Jon Preece, studying composite polymer / metal nanoparticle composites and the chemical modification of the surface of materials for a range of applications. He then went on to hold a postdoc position in the Physics and Maths team at Nottingham Trent University (NTU) for five years, firstly with Professor Glen McHale and Dr Mike Newton modelling water repellent soils and studying the control of surface wettability and its applications and then with Dr David Fairhurst on an industrially funded project the development of fluorine free firefighting foams. Chris has worked as a lecturer in both Chemistry and Physics at NTU and carried out independent research on controlling beer foams by controlling the wettability of the glass in which they were poured. He has also held positions at the University of Wolverhampton and University of Birmingham prior to being appointed to his current role.
Chris first developed an interest in outreach during his time at NTU, helping with the 'Nature's Raincoats' outreach activity and then leading the 'Nature's Raincoats' team to the TechFest2012 science fair in Mumbai. He went on to regularly volunteer with Royal Society of Chemistry outreach events and introduced a science tent and busking activities to the CoCoMAD festival (in Cotteridge Park near the Cadbury Factory) in 2017 with a grant from the RSC and help from Brum Sci Comm (a group of science enthusiasts in the Birmingham area). He organised the science tent at CoCoMAD again in 2018 and will now be organising an entire field of science events at which there will be representation from the Metallurgy and Materials department. Anyone wishing to get involved with this event can contact Chris directly.
If you are interested in finding out more or want to get involved with Discover Materials then please email C.A.Hamlett@bham.ac.uk.