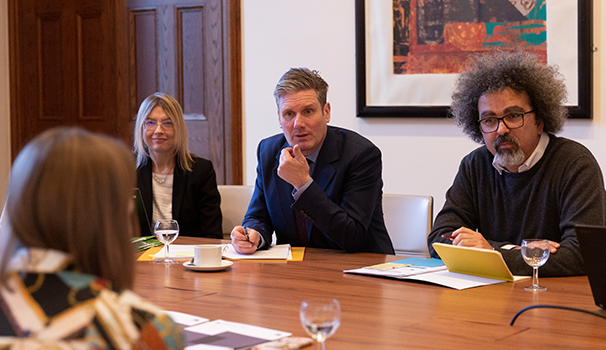 The Rt Hon Sir Keir Starmer MP, Shadow Secretary of State for Exiting the EU, visited the University of Birmingham this month to speak to researchers and deliver a public talk.
After arriving on campus, he took part in a roundtable discussion with academics leading projects on the impacts of Brexit, as part of the ESRC's UK in a Changing Europe programme.
The projects discussed were:
EU families and 'Eurochildren' in Brexiting Britain - Dr Nando Sigona
Economic impacts of Brexit on the UK, its regions, cities and sectors - Dr Chloe Billing
The impact of Brexit on Health Law in the UK and devolved jurisdictions - Professor Jean McHale
Keir then gave a talk to students, staff and members of the public on the Brexit negotiations, and took questions from the audience.
The visit was kindly facilitated by Preet Kaur Gill MP, as part of Keir's visit to the Birmingham Edgbaston constituency.