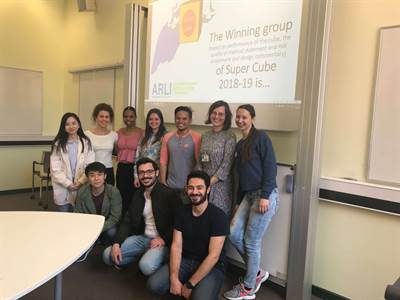 The School of Engineering recently hosted Super Cube, a competition between groups of full-time students on the Geotechnical Engineering Masters degree programme.
This competition was organised by lecturers Professor Ian Jefferson, Professor Nigel Cassidy, Dr Alexander Royal and Dr Anna Faroqy, who helped them prepare for the competition.
The student groups (Armageddon, Forticube and SAB3) were asked to design and construct a reinforced cube of soil. To win, the students had not only to produce the strongest cube but also had to make innovative decisions, based on sound engineering and financial judgement and safe working practices.
During the competition, the teams were judged by experts from our Geotechnical Team and Amey Consulting and were also asked to explain their design structures.
The aim of the competition was to contextualise the material being taught in the Geotechnical Engineering degree programmes, by applying theory to a practical challenge. It aimed to draw out the valuable lessons from the taught course and, where possible, simulate the types of decisions being taken by practicing geotechnical engineers.
The competition was brought to an end by Professor Ian Jefferson who thanked everyone for taking part. Thomas Bulteel from Amey Consulting announced the team who won both prizes was Forticube: Darcy Allison, Amy Thornes, Temogo Dibonwa and Richard Lauritio.