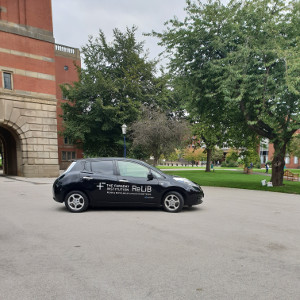 Today, (4 September 2019) the Faraday Institution announced that it will award up to £55 million to five UK-based consortia to conduct application-inspired research to make step changes in battery chemistries, systems and manufacturing methods. The ultimate aim of the research is to facilitate improvements in batteries used for transport and other applications such as grid storage with improved performance and cost characteristics.
The new projects join the existing Faraday Institution research projects that collectively aim to deliver the organisation's mission to accelerate breakthroughs in energy storage technologies to benefit the UK in the global race to electrification. This expanded portfolio has the dual aims of improving current generation lithium ion batteries as well as longer horizon materials discovery and optimisation projects to support the commercialisation of next-generation batteries.
Both, Professor of Energy Materials, Emma Kendrick and Co-Director of the Birmingham Centre for Energy Storage, Professor Peter Slater from the University of Birmingham will be working in two of these five UK-based consortia, Next generation electrode manufacturing (Nextrode) and CATMAT. Head of the School of Chemical Engineering, Professor Mark Simmons will also be involved in the Nextrode project and Birmingham Fellow, Dr Phoebe Allan will be involved in the CATMAT project.
Speaking about the two projects, Professor Kendrick said, "in CATMAT we will investigate the production of novel cathode materials at a scale suitable for cell manufacturing. These cathodes will be evaluated in full cell formats, to understand the interface formation in real and relevant cells. NEXTRODE compliments the cathode materials work, through the engineering of hierarchical electrode structures and corresponding metrology advances for control and optimisation of the manufacturing processes. Both projects provide the fundamental scientific understanding to accelerate advanced manufacturing techniques for next generation of batteries."
The Nextrode project will be led by the University of Oxford. The consortium will compromise of five other universities and six industry partners to revolutionise the way electrodes for Li-ion batteries are manufactured. By understanding how materials assemble as electrodes are cast, and developing new manufacturing tools, the consortium aims to usher in a new generation of smart, high performance electrodes, which could enable EVs with a longer range and batteries that are more durable. The project's Principal Investigator is Professor Patrick Grant of the University of Oxford. Other university partners are University of Birmingham, University College London, University of Sheffield, University of Southampton and University of Warwick.
CATMAT will be led by the University of Bath with six other universities and 12 industry partners, this project will place considerable emphasis on understanding the fundamental mechanisms at work within novel cathodes that currently prevent the use of nickel-rich cathode materials (with low or no cobalt) and lithium-rich cathodes. The consortium plans to exploit this new knowledge to inform the discovery of novel cathode materials with enhanced properties. It will scale up the synthesis of the most promising new materials and assimilate them into fully integrated battery cells to demonstrate performance. CATMAT will be led by Professor Saiful Islam of the University of Bath. Other academic partners include University of Birmingham, University of Cambridge, University of Liverpool, University of Oxford, University College London and Diamond Light Source.
In addition to these two projects, the University of Birmingham is leading on the Faraday Institution Recycling of Lithium Ion Battery project which was launch in 2018.
Business Minister, Nadhim Zahawi, said, "Today's funding backs scientists and innovators to collaborate on projects that will deliver a brighter, cleaner future on our roads. We are committed to ensuring that the UK is at the forefront of developing the battery technologies needed to achieve our aim for all cars and vans to be effectively zero emission by 2040."
The Faraday Battery Challenge is part of the government's Industrial Strategy Challenge Fund (ISCF), overseen by the Department for Business, Energy and Industrial Strategy to help transform the production of batteries for the future of electric vehicles (EVs) in the UK.
Neil Morris, CEO of the Faraday Institution, said, "It is imperative that the UK takes a lead role in increasing the efficiency of energy storage as the world moves towards low carbon economies and seeks to switch to clean methods of energy production. Improvements in EV cost, range and longevity are desired by existing EV owners and those consumers looking to purchase an EV as their next or subsequent car. Our research to improve this web of battery performance indicators (which are different for different sectors) are being researched, with a sense of urgency, by the Faraday Institution and its academic and industrial partners. Our fundamental research programmes are putting the UK at the forefront of this disruptive societal, environmental and economic change."
UK Research and Innovation Chief Executive, Professor Sir Mark Walport, said, "Bringing together experts across industry and academia, this exciting research will grow our understanding of battery chemistries and manufacturing methods, with the potential to significantly improve the UK's ability to develop the high-performance electric vehicles of the future."
The new projects, which are expected to run over four years, address battery challenges faced by industry and leverage the UK's world-class research capabilities to advance scientific knowledge with the aim of commercialising new battery technologies and processes.