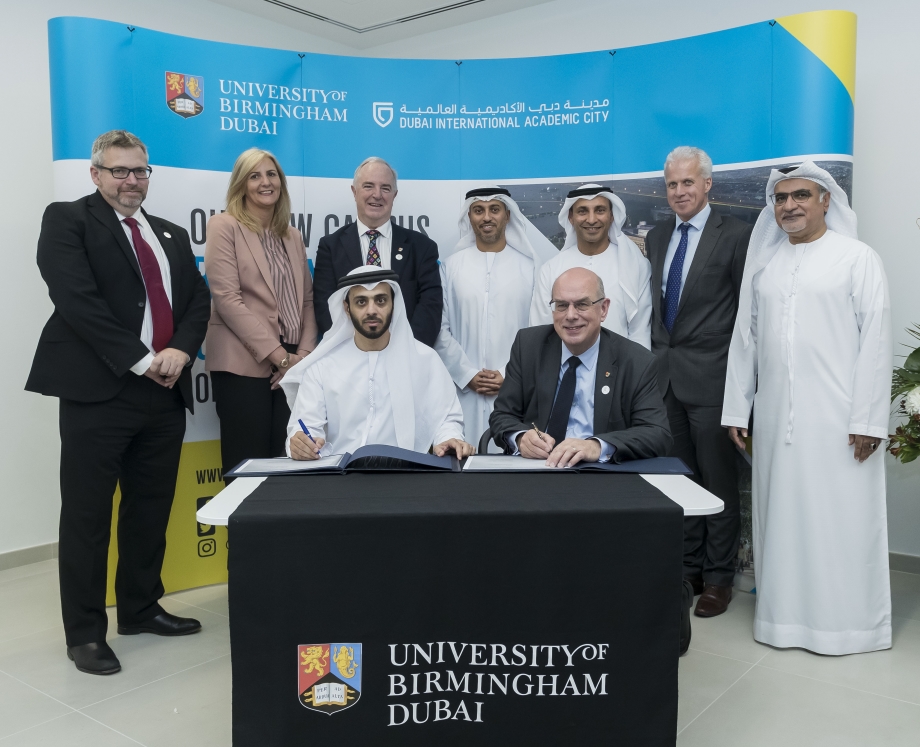 The University of Birmingham has signed an agreement to build the second phase of its campus in Dubai - in the presence of the UAE Minister of State for Higher Education and Advanced Skills.
His Excellency Dr. Ahmad bin Abdullah Humaid Belhoul Al Falasi joined HMCG Dubai & Northern Emirates, His Excellency Andrew Jackson, together with senior leaders from the University of Birmingham, Dubai International Academic City (DIAC) and TECOM Group who met to formalise the agreement in a special ceremony at DIAC.
University of Birmingham Principal and Vice-Chancellor Professor Sir David Eastwood and CEO of TECOM Group Malek Al Malek signed the agreement, which will see a new purpose-built campus built.
Located within DIAC, the facilities will open in September 2021 and provide an academic home for up to 2,900 students with the opportunity to extend the development as the University of Birmingham Dubai grows.
Designed by Hopkins Architects, the iconic buildings will be located opposite the city's first purpose-built student housing community - looking across parkland reflecting the green heart of the University's UK campus.
The purpose-built, 50,000m2 campus is designed to encourage collaboration across all academic disciplines, with flexible learning spaces and formal teaching spaces ensuring teaching and research can work in tandem to benefit students.
A student 'hub' will locate student services in one space. Sheltered courtyards and social spaces will provide a relaxing environment in keeping with the local climate that is designed to enhance the campus' sustainability.
There will be a 300-seat lecture theatre, a similarly-sized auditorium and three laboratories accommodating 200 students, along with seminar and tutorial rooms.
Birmingham was the first global top 100 and UK Russell Group university to establish a campus in this rapidly developing international education hub. It offers degrees taught, examined and accredited to the same high standards as those delivered on its UK campus.
University of Birmingham Pro-Chancellor and Chair of Council Dr. Ed Smith CBE commented: "This is a truly exciting milestone for the University of Birmingham. From the outset, Council members have wholeheartedly supported this visionary project to build a campus in Dubai. I would like to thank Dubai Knowledge and Human Development Authority (KHDA), TECOM Group, DIAC and all our partners in the region for their generous support in helping us reach this landmark day."
Professor Sir David Eastwood added: "We welcomed our first students to the University of Birmingham Dubai in September and, just five months later, we have begun the next exciting stage of our contribution to UAE society.
"As a global university with a civic outlook, we are committed to playing our part in supporting the UAE as it drives economic progress through knowledge and innovation, whilst contributing to the development of a growing international education hub in Dubai.
"This innovative and iconic facility has been designed to echo our beautiful and historic Edgbaston campus, whilst providing a flexible, modern setting for our students in Dubai to obtain maximum benefit from our teaching and research expertise."
The University of Birmingham Dubai already offers programmes including Business, Economics, Computer Science, Mechanical Engineering, and teacher training degrees. It is launching new study programmes for 2019/20 in areas such as Accounting, Banking and Finance, International Commercial Law and teacher training in Arabic and Special Educational Needs.
Malek Al Malek, CEO of TECOM Group, said: "Education is a particularly important pillar of the UAE National Agenda and Vision 2021. These national roadmaps will contribute to paving the way for the nation to leading provider of world-class education.
"Dubai's emergence as a leading educational hub has been strengthened over the recent years due to regulatory reforms, increased ease of obtaining student visas, and the city's status as a multicultural cosmopolitan centre. Higher educational institutions such as the University of Birmingham play a pivotal role in developing and nurturing talented individuals who in turn, support UAE's economic transformation."
Mohammad Abdullah, Managing Director of Dubai International Academic City and Dubai Knowledge Park, said: "We are pleased to strengthen our partnership with the University of Birmingham. The establishment of the University of Birmingham at DIAC represents an important step towards a long-term relationship that will enhance educational experiences for local and transnational students alike.
"The bespoke campus, which is set to be complete in 2021, is a testament to the innovative ecosystem that is needed to meet the demands of the rapidly changing international student landscape. As our vibrant community continues to expand, we are committed to supporting our academic partners and collaborating with top academic institutions in order to fulfil global demand for quality international higher education."
Following the signing ceremony Dr. Belhoul Al Falasi took a tour of the current University of Birmingham Dubai building at DIAC, meeting a range of experts from the University, who outlined a range of University research areas of particular interest to the UAE, including:
Quantum technology sensors for space;
Clean energy - sustainable cooling;
Education - special needs + Arabic teaching;
Tolerance, character and virtue;
Artificial intelligence and transport systems; and
Cardiovascular disease genomics for the Emirati population.
The University of Birmingham is ranked amongst the world's top 100 institutions, its work brings people from across the world to Birmingham, including researchers and teachers and more than 6,500 international students from over 150 countries.
The University of Birmingham was established by Queen Victoria in 1900 as Great Britain's first civic university, where students from all religions and backgrounds were accepted on an equal basis.
The University is renowned for its research excellence and its researchers have received 11 Nobel Prizes. From pioneering organ transplants, discovering gravitational waves and furthering understanding of Shakespeare, to developing cures for cancer, advances in robotics and revealing the structure of DNA, the University has been at the forefront of some of the most ground-breaking discoveries of the last 100 years.
Birmingham is acknowledged for producing globally employable graduates and was chosen as the Times and Sunday Times University of the Year for Graduate Employment 2016. The University of Birmingham is the third most frequently targeted UK university for the country's top employers looking for graduate recruits, according to High Fliers Research.
The Dubai Knowledge and Human Development Authority (KHDA) is responsible for the growth and quality of private education in Dubai. It supports schools, universities, parents, students, educators, investors and government partners to create a high quality education sector focused on happiness and wellbeing.
Dubai International Academic City (DIAC), a member of TECOM Group, is the world's largest free zone dedicated to Higher Education. Established in 2007, DIAC hosts 26 universities from nine countries offering more than 500 undergraduate, post graduate, and PHD programmes to over 25,000 students representing 149 nationalities. Located on a modern campus with state-of-the-art facilities spread across 18 million square feet, DIAC acts as a catalyst for academia in the region and supports the fulfilment of Dubai's ambition of building a knowledge-based economy through the provision of a wide range of internationally accredited study programmes.