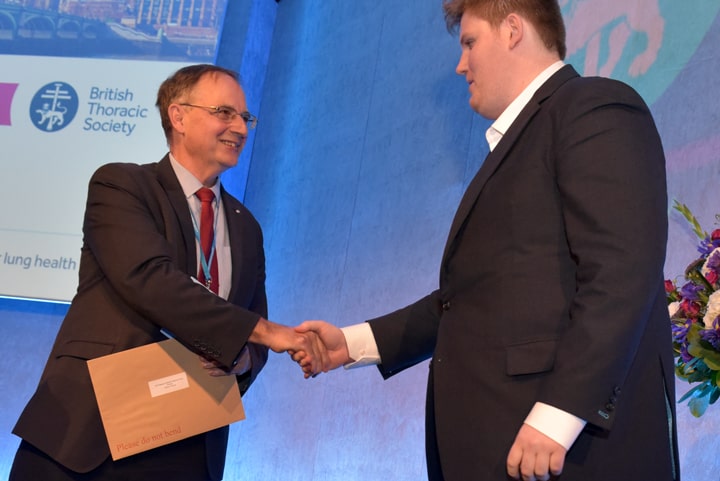 A University of Birmingham medical student has been crowned winner of an award for his research that could help lead to better treatments for patients with chronic lung conditions.
William McIver has won the British Thoracic Society's (BTS) Medical Student Award 2019 after battling off competition from hundreds of other students who submitted research abstracts.
The awards was presented on Wednesday 4 December at the BTS's Winter Meeting in London and they are presented to those behind the very best basic, translational or clinical research performed in the UK's respiratory community.
William's research focussed on Chronic Obstructive Pulmonary Disease (COPD), which is an umbrella term used to describe progressive lung diseases including emphysema, and certain types of bronchitis and asthma.
This disease is characterized by increasing breathlessness and can be extremely debilitating. Flares-up of the disease, called exacerbations, are very dangerous to patients and even fatal. They often occur because of a chest infection.
William explained: "When a patient has a chest infection, lots more white blood cells, called neutrophils, dash to the lungs to fight infections.
"Our research has investigated how these white blood cells behave in people with COPD with a chest infection, and has found that the white blood cells move much slower than in healthy people and are much less accurate in doing their job.
"The consequence of this is that they are less effective in fighting the infection, and they can attack healthy parts of the lung, causing damage, which can result in the patient experiencing a flare-up and the disease gets worse.
"Our research looked at why this might happen, and found that these white blood cells are born with less of a sensor that makes them respond to the signal that calls them to respond to an infection. This new knowledge could, in the long-term, help develop treatments or targets to prevent COPD from getting worse."
An abstract of the research was published online in Thorax in November 2019.
Of the award, William said: "I cannot thank the British Thoracic Society enough, the award means a lot because the project was conducted as part of my intercalated degree and is very close to my heart.
"My year in the laboratory was truly the best year I have had at Birmingham Medical School, despite being a completely new challenge.
"I hope that the prize will help demonstrate my enthusiasm for respiratory medicine when the time comes to apply for specialty training.
"Most of all I need to thank the patients who took part in my project, who did so completely altruistically and for no personal gain.
"Translational research projects like this rely entirely on patients who are willing to help, and it could not be done without them."