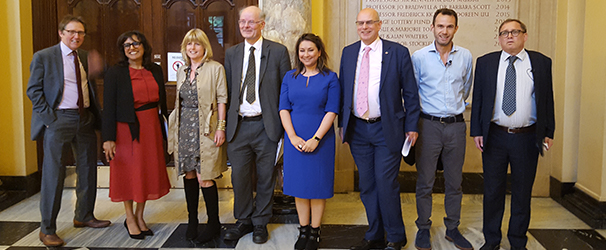 The discussion was chaired by the journalist Ritula Shah, the regular presenter of The World Tonight on BBC Radio 4, and the panel included:
Professor Sir John Curtice – a political scientist who is currently Professor of Politics at the University of Strathclyde. A regular media commentator on UK politics, he specialises in electoral behaviour and researching political and social attitudes.
Simon Franks – an entrepreneur and creator of LoveFilm, who co-founded United for Change in 2017, having concluded that British politics was no longer fit for purpose. United for Change aims to build a grassroots movement on a mission to change politics in the UK.
Ayesha Hazarika –a columnist and political commentator known for her insightful and witty opinions and observations on current affairs. She was Special Adviser for the Labour Party for eight years, advising on PMQs, speeches, media and policy as well as heading up initiatives on topics such as Women and Equality.
Rachel Johnson – editor, journalist, television presenter, and author based in London. She has appeared frequently on political discussion panels, and was the lead candidate for Change UK for the South West England constituency in the 2019 European Parliament elections.
Professor Scott Lucas –Professor of International Politics at the University of Birmingham, and a professional journalist. A specialist in US and British foreign policy, he is a regular analyst on international radio and television outlets such as the BBC, CNN, Deutsche Welle, Al Jazeera and TRT World.
Adrian Wooldridge –the political editor of The Economist and author of the Bagehot column; an analysis of British life and politics. He has written for The Wall Street Journal, The New Republic and The Times and has appeared on NPR (National Public Radio) and the BBC.
The panel took questions from a packed audience inside The Bramall at the University of Birmingham. Clips from the event will be available shortly.