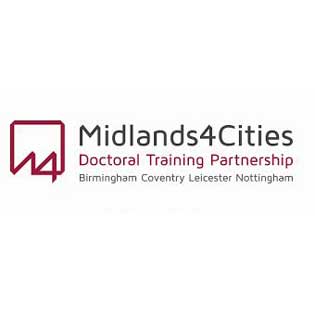 Midlands4Cities Doctoral Training Partnership (M4C) brings together eight leading universities across the Midlands to support the professional and personal development of the next generation of arts and humanities doctoral researchers.
M4C is a collaboration between the University of Birmingham, Birmingham City University, University of Warwick, Coventry University, University of Leicester, De Montfort University, Nottingham Trent University and The University of Nottingham.
This year, M4C is awarding up to 89 doctoral studentships for UK/International applicants through an open competition, plus 21 Collaborative Doctoral Awards (CDAs) through a linked competition with a range of partner organisations in the cultural, creative and heritage sector.
Awards for UK residents cover UK tuition fees and provide a stipend at the UK Research and Innovation rate. International applicants will be eligible for tuition fees at the UK rate and a stipend to support living costs. Please read the guidance notes for full details of funding eligibility.
The University of Birmingham is inviting applications from students with research interests in the following fields:
Archaeology
Classics and Ancient History
Drama and Theatre Arts
English Language and Literature
Geography
Heritage Studies
History (including African Studies)
Interdisciplinary (including Sexuality and Gender Studies)
Law
Linguistics
Media, Film Studies and Creative Writing
Modern Languages
Music
Philosophy
Theology and Religion
Visual Arts and History of Art
Please read our research areas page for full details of our range of expertise for supervision.
We also have three CDAs in partnership with the National Literary Trust, Library of Birmingham, and National Portrait Gallery London:
A place-based approach to literacy: the importance of partnership-working to the delivery of a successful local area project.
Everything to Everybody?: A Critical History of the World's Premier Public Shakespeare Library.
Lucian Freud's Childhood Correspondence and Drawings
The deadline for M4C funding applications is 12noon on Wednesday 13 January 2021. Please review our M4C webpages for full details of eligibility, funding, research supervision areas and CDA projects, and how to apply.