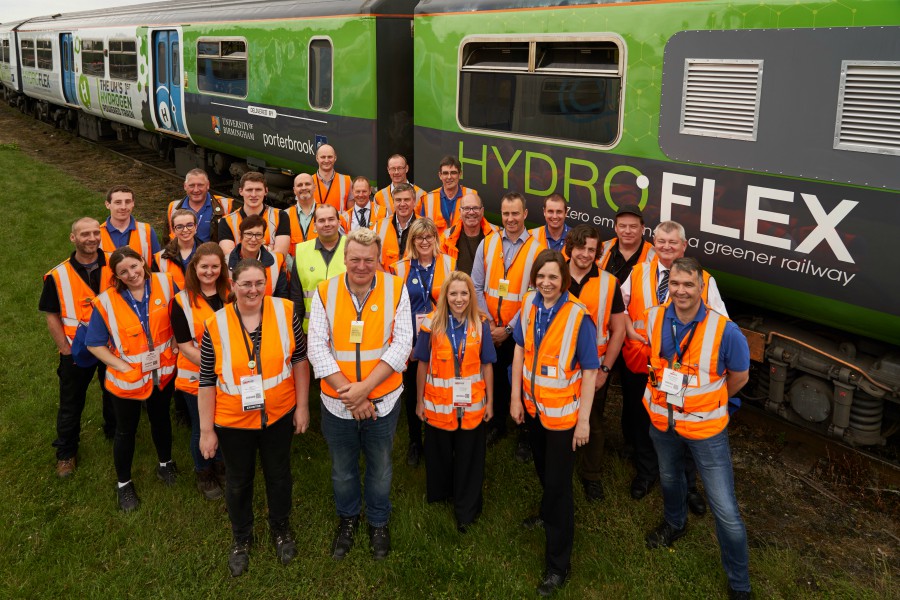 We are delighted to announce that the Birmingham Centre for Railway Research and Education (BCRRE) at the University of Birmingham has been recognised in the Guardian University Awards 2020, shortlisted in the category of Business Collaboration. This category looks for an outstanding university partnership with a business or an industry – regional, national or international – where knowledge is applied, and resources are shared for the benefit of the broader economy.
In partnership with railway stock leasing company Porterbrook, BCRRE developed HydroFLEX, the world's first retro-fitted hydrogen train and the UK's first train powered this way. HydroFLEX rose from a student-led project into a narrow-gauge hydrogen-powered locomotive which sits wholly within the UK's decarbonisation goals. This inspired Porterbrook to generate a collaborative research and innovation project between industry and BCRRE; combining education and research within one sector-focused Centre. To bring this to life, Porterbrook and the University of Birmingham agreed to invest in the collaboration and worked to a tight deadline to convert an old Thameslink electric train into a hydrogen-powered one.
"Porterbrook is committed to delivering a more reliable and sustainable railway. As part of this commitment we have been delighted to work in a unique partnership with the University of Birmingham on the delivery of HydroFLEX, the UK's first hydrogen powered train. The team at the University of Birmingham have shown themselves to be highly attuned to the needs of their private sector partner and have exhibited excellence in R&D that has enabled us to jointly deliver this project in record time."
Mary Grant, CEO of Porterbrook
From initial concepts in November 2018, through detailed design and manufacture, close collaboration allowed for seamless communication and trust across the team. As a result, the project was delivered in just nine months. The working demo train debuted in June 2019 at Rail Live. 500 people journeyed on the HydroFLEX train at this event, including the Chairman and Chief Executive of Network Rail, the Secretary of State for Transport and the Shadow Transport Secretary and international media.
"Our First of a Kind investment has consistently produced truly ambitious projects developed for the benefit of passengers and freight customers. We are absolutely committed to driving forward a greener, cleaner and more efficient rail network, using new technology to create modern, low-emission trains which can handle a growing number of journeys."
Chris Grayling, former Secretary of State for Transport 2019
With evidence of a working demo train, the University secured £350,000 Innovate UK funding for mainline testing of a hydrogen-fuelled train funded by the Department for Transport's First of a Kind competition. Testing is scheduled for March 2020.
In their eighth year, The Guardian University awards celebrate the inspirational, ground-breaking projects from UK universities and represent the best of the sector. Winners will be announced later this year.
---
From clinical trials and advanced manufacturing, through to business consultancy and cyber security, learn more about partnering with the University of Birmingham.