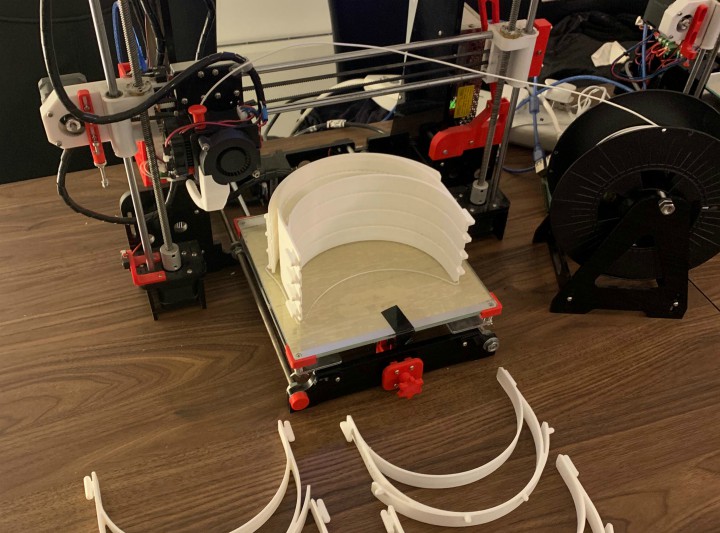 Researchers at the University of Birmingham are sharing their expertise in 3D printing to make face visors for use by frontline medical staff in Birmingham Children's Hospital.
Students and staff from across the campus have teamed up to create a manufacturing chain that is being led by Dr Sophie Cox, Dr David Bassett and Dr Thomas Mills from the School of Chemical Engineering.
This includes 15 3D printers which have been assembled in the University's Collaborative Teaching Laboratory, and a further 15 machines operated in a distributed manner by staff and students. In the coming weeks the team will be operating these machines to produce around 100 visors per day.
The visors are used by healthcare professionals to provide additional protection when treating patients with coronavirus.
The design is taken from a commercially tested blueprint from 3D manufacturer PrusaPrinters, based in the Czech Republic. PrusaPrinters are one of several companies to have published a visor design and made it freely available to 3D printing communities around the world.
The 3D printed component of the visors is a headband, which fits across the user's forehead onto which fits a clear plastic sheet covering the user's face and shielding them from splashes, coughs or sneezes from patients.
In Birmingham, teams are using a range of different fused deposition modelling printers. Over the next few days, staff expect to be able to produce an initial batch of around 60 of the visors, which will be delivered directly to the Children's Hospital.
Dr Sophie Cox, from the Healthcare Technologies Institute, says: "We're joining a growing community of 3D printing users around the UK who are able to make use of these designs to manufacture a product that can be used widely by our frontline NHS colleagues."
"These visors are used alongside other personal protective equipment (PPE) by staff in the hospital and offer an extra line of protection from patients who have or who are suspected to have the COVID-19 virus."
Dr David Bassett adds: "Rapid prototyping offers us a route to respond directly and quickly to the shortage of PPE needed for frontline workers in the NHS and beyond. Ramping up manufacture and distribution by traditional routes takes time and these face shields will provide much needed supplementary protection for frontline workers in the fight against COVID-19 in the interim."
The team are very interested in hearing from members of the University community who may be able to further support these activities and from other key worker facilities whom would benefit from a supply of visors.
For media enquiries please contact Beck Lockwood, Press Office, University of Birmingham, tel: +44 (0)781 3343348.
The University of Birmingham is ranked amongst the world's top 100 institutions. Its work brings people from across the world to Birmingham, including researchers, teachers and more than 6,500 international students from over 150 countries.