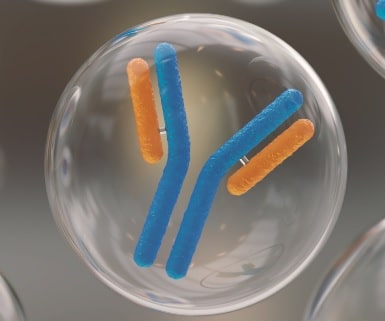 Birmingham spinout Revitope Oncology Inc has announced a research collaboration and licence agreement with leading Chinese biopharmaceutical company Junshi Biosciences to develop precision cancer therapies that harness the body's immune response to kill cancer cells while leaving healthy body tissues untouched.
Revitope will leverage its proprietary protein engineering platform with Junshi's novel antibody components to develop first-in-class dual antigen targeting cancer therapies. Revitope will receive up to $160 million per molecule in milestones and royalties on net sales of 10%. Junshi has also committed to acquire a 9.99% stake in Revitope for $10 million.
Revitope's technology, known as the T-cell engager antibody circuit (TEAC), has the potential to significantly improve outcomes for millions of cancer patients.
The technology splits antibodies into two halves which are programmed to recognise different antigens. The two halves are inactive until they encounter a cancer cell that is expressing both antigens, when they reunite and direct the body's immune response to kill the target cell.
Targeting two antigens rather than one provides a unique 'tumour-specific address' and when the two halves of the antibody are reunited, the cell is recognised and destroyed by T cells (white blood cells), and the immune system is primed to seek out and destroy similar cancer cells.
Normal cells expressing only one or neither of the antigens will not activate a TEAC pair, and treatment will therefore avoid unwanted toxicity in healthy tissues.
Under the terms of the collaboration and license agreement, Revitope and Junshi will develop candidate TEAC pairs for agreed target antigens. Junshi will receive a world-wide license for the TEAC pairs, and have responsibility for initial studies, clinical development, manufacturing and commercialisation.
Dr James Wilkie, CEO of University of Birmingham Enterprise commented: "Revitope was established in 2014 by Cancer Research Technologies and the University of Birmingham. Since then it has moved its centre of gravity to the US, and is now collaborating with a global biopharmaceutical company. I couldn't be more delighted to see the progress of a company created at Birmingham."
ENDS
For more information contact: Ruth Ashton, University of Birmingham Enterprise, email: r.c.ashton@bham.ac.uk.
University of Birmingham Enterprise helps students and researchers turn their ideas into new services, products and enterprises that meet real-world needs. We also support innovators and entrepreneurs with mentoring, advice, and training and manage the University's Academic Consultancy Service.
Revitope Oncology Inc is a privately funded cancer therapeutics company with a focus on innovative tumor-specific antibody based biotherapeutics. Based in Cambridge MA, the company has conceived, engineered, patented and pre-clinically tested novel classes of bispecific antibody therapeutics designed to enable tumor-specific immunotherapy with approved therapeutic efficacy and safety.