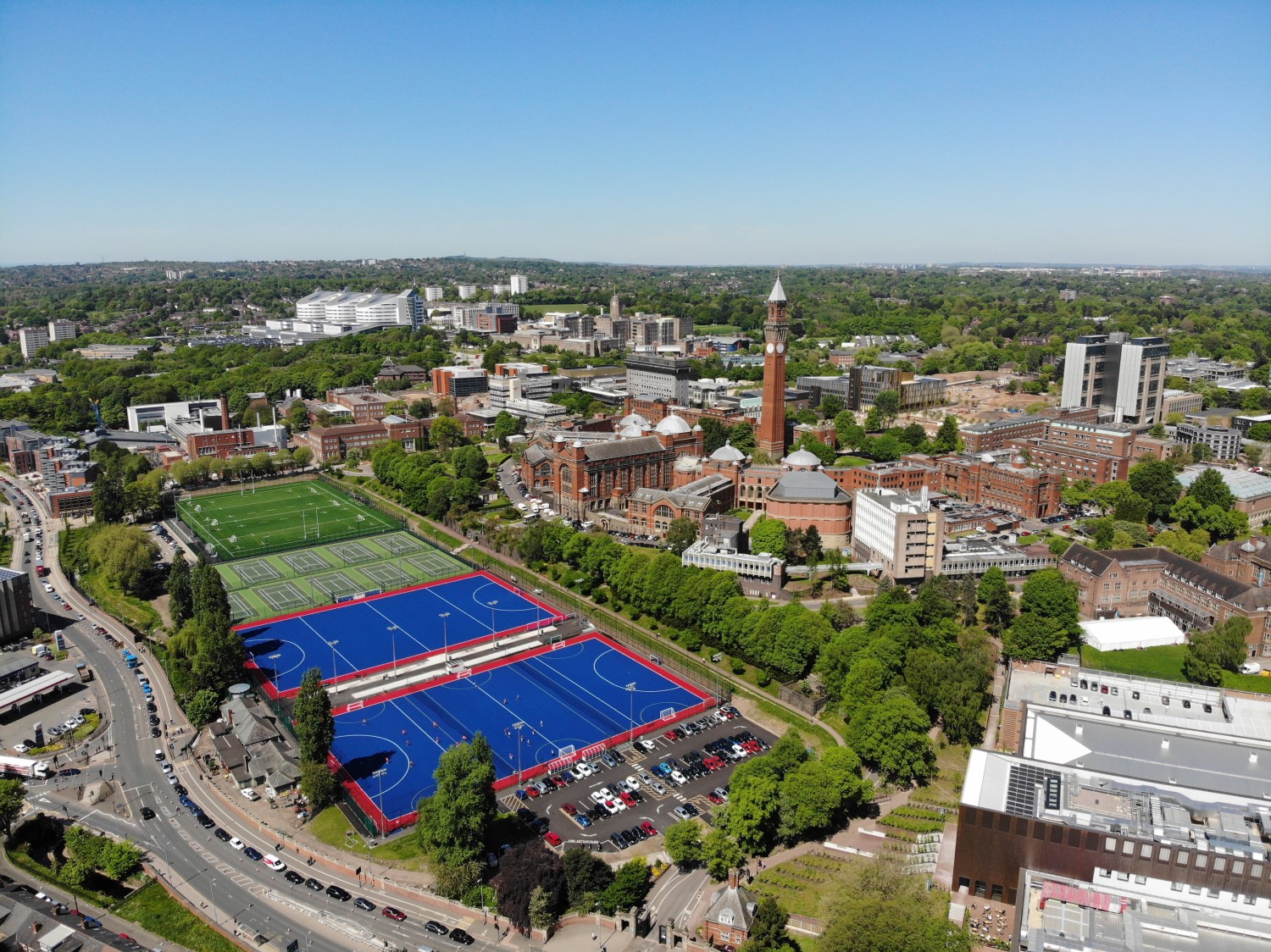 A coronavirus testing facility has opened today (Thursday 27 August 2020) at the University of Birmingham, as part of the Government's UK-wide drive to improve the accessibility of coronavirus testing for communities.
Open to staff, students and the local community, the site, situated in the South Gate car park near the Sports Centre will offer testing for anyone with coronavirus symptoms, however mild, via a free, self-administered swab test that takes less than a minute. Appointments for tests should be booked as soon as symptoms begin at nhs.uk/coronavirus or by calling 119.
Those being tested will be required to follow public health measures, including social distancing, not travelling by taxi or public transport, practising good personal hygiene and wearing a face covering throughout (including travelling to and from the testing centre). Anyone attending an appointment at the new testing centre will be provided with guidance on getting to and from the test site safely and additional support will be available for vulnerable groups and people with disabilities.
This latest testing site is part of the largest network of diagnostic testing facilities created in British history, including 73 drive-through sites, 45 walk-through sites, 236 mobile units, home testing and satellite kits and five laboratories.
Anyone testing positive for the virus in England will be contacted by NHS Test and Trace to help them track their contacts. This will help people to identify who they may have been in close contact with, protecting others from further transmission. Close contacts of those testing positive will also hear from NHS Test and Trace, advising them to stay at home for 14 days to prevent them from unknowingly spreading the virus. They will be advised to also book at test if they develop symptoms.
Health Minister Lord Bethell said: "Testing is proving an effective way to contain the virus so we are scaling testing capacity and walk-through centres to make it even easier for everyone to get a free coronavirus test.
"Our NHS Test and Trace service will contact you if you test positive or if you have been in close contact with someone who has the virus. I urge anyone with symptoms to book a test today, and anyone contacted by NHS Test and Trace to follow their advice to protect those around them from the virus."
Baroness Dido Harding, Interim Executive Chair of the National Institute for Health Protection, said: "Getting a test is now faster and easier than ever. Local sites will mean anyone who has symptoms can get a free test quickly to find out whether they have the virus and need to stay at home, or can safely return to work and get back to the things they love.
"Over 95% of people will get their results the next day, and anyone who tests positive will be contacted by NHS Test and Trace to help to prevent the spread of the virus."
The testing centre is being operated in partnership with Serco, and will offer self-administered tests.
Kevin Craven, Serco CEO for UK and Europe said: "We are pleased to be supporting the Government and the NHS in setting up and managing the new testing centre in Birmingham, as well as the testing centres we are already operating.
"I would like to pay tribute to my colleagues who have worked extremely fast and professionally, and with the other organisations involved, to set up these centres having deployed from other roles within Serco. I know that they are proud to be doing their part in helping the country tackle coronavirus"
Professor David Adams, Pro-Vice-Chancellor and Head of College of Medical and Dental Sciences at the University of Birmingham said: "Academics at the University of Birmingham have played a significant role in the testing landscape since the beginning of the pandemic and as an institution we are pleased to be able to support the national effort further by having a testing site on campus.
"We hope that the accessibility of the site will offer peace of mind not only for our staff and the thousands of students that make Birmingham their home, but for our wider community."
The testing site will be open from 08:00 to 20:00, seven days a week.

The University of Birmingham is ranked amongst the world's top 100 institutions, and its work brings people from across the world to Birmingham, including researchers and teachers and more than 6,500 international students from nearly 150 countries.
In England and Wales, the NHS free testing service is available to everyone. In Scotland and Northern Ireland this is available to those aged 5 and over.
Everyone with symptoms can book or order a test. Essential workers and members of their households can access priority testing at Gov.UK. Those unable to access the internet can call 119 in England and Wales or 0300 303 2713 in Scotland and Northern Ireland to book a test.
The test involves taking a swab of the nose and the back of the throat, which can be done by the person themselves (self-administered) or by someone else (assisted). Those being tested may experience some mild discomfort but it should not hurt.
Testing and tracing are central to the government's coronavirus recovery strategy. To stop the spread of the virus, everyone will need to play their part by isolating if symptomatic, booking a test as soon as possible, and if asked to do so, identifying their close contacts. Read about how it works.