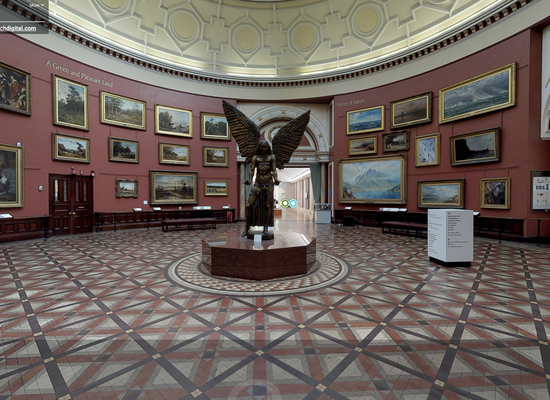 Regional museums and galleries are key to maintaining vibrant cultural economies. The West Midlands has some of the best museums in the UK, from the globally-recognised Pre-Raphaelite collection at Birmingham Museum and Gallery to the RIBA Stirling Prize nominated New Art Gallery Walsall. However, the Covid19 Crisis, following hard on the heels of austerity-driven cuts, has put our public museums at risk.
In response, the Department of Art History, Curating and Visual Studies at the University of Birmingham has joined forces with public galleries across the West Midlands to support their essential collections research. This indispensable research will in turn enable the production of inspired public programming.
New support for Museums and Galleries in the Midlands
Working with our museum and gallery partners at Birmingham Museums Trust and the New Art Gallery Walsall, we have just received funding from Tate, the Paul Mellon Centre and the British Art Network to establish two nationally-recognised Research Groups that will support new research, collaboration and professional development within the museums sector.
The 'Post-War Painting in Regional Collections' Research Group will utilise academic and curatorial research to explore new interpretations of regional collections that are sensitive to regional and local cultures and politics. It will work to uncover concealed histories of race, gender and sexuality in a regional context- focusing on the post-war paintings, artists, collectors, and curators represented by/in our regional collections.
The 'Race, Empire and the Pre-Raphaelites' Research Group will work to shape a reimagined version of BMT's touring exhibition Victorian Radicals: From the Pre-Raphaelites to the Arts and Crafts Movement for the Commonwealth Games Cultural Programme in 2022, and create a decolonising toolkit for museum and higher education practitioners, which will be available online. By using Birmingham's rich collections as a starting point, the group aims to facilitate wider conversations about Victorian art and design might be displayed and interpreted for the 21st-century museum and its diverse audiences.
Safeguarding the Future of our Museums and Galleries

We contend that cross-sector partnerships between Universities and museums and galleries will be key to sustaining and enriching the local cultural economy during the current pandemic and after. Arts Council England's report into arts funding during austerity (2016) predicted that new partnerships would be an important resource for the art and heritage sector moving forward. This has been born out in our work with the Midland Art Papers project, a network set up by our Department linking 13 museums and galleries across the Midlands. Through this network, we have inspired new exhibitions and learning and engagement programming, and formed collaborative partnerships that led to the establishment of our new Tate-funded cross-sector Research Groups. These will extend our work to a national level, and provide an essential source of support for galleries as they work to continue their necessary work under the difficult conditions imposed by COVID19.
Tate, the Paul Mellon Centre and the British Art Network have recognised that cross-sector initiatives are a valuable tool for supporting the meaningful work of public museums and galleries, and through their Research Group funding programme, have singled out our work as a particularly successful example of what such partnerships can achieve. We urge other regional and national funders to take note, and work to increase funding and support for cross-sector partnerships in the arts.