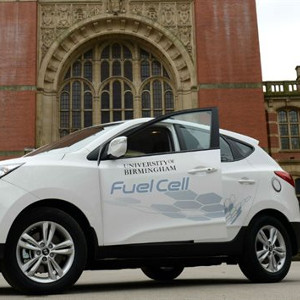 Researchers from the Birmingham Centre for Fuel Cell and Hydrogen Research are working with Teer Coatings Ltd (TCL) to develop the fuel cell vehicle supply chain needed for a zero emission UK automotive sector.
TCL has developed coatings for bipolar plates that offer high-performance and high durability fuel cells. To date, the coatings have only been used in high-value, low volume applications and will need to be scaled up to be produced at the volume required by the automotive sector.
Funded by the Advanced Propulsion Centre's (APC) Automotive Transformation Fund (ATF), a feasibility study into the High-Throughput Coating Processes for Fuel Cell Bipolar Plates project will evaluate the viability to scale up the production of high-performance fuel cell plate coatings using novel processes. The project team will review the effect of the proposed scale-up process on critical performance characteristics and the cost of production. The effect of the scale-up will be evaluated both for coating of pre-formed fuel cell plates and on plates from post coating to inform decisions on the most appropriate future scale up process.
Speaking about the project, Dr Ahmad El-kharouf, Manager of the Centre for Doctoral Training in Fuel Cells and their Fuels said: "We are pleased to be working with Teer Coatings Ltd to employ their coatings into bipolar plates for fuel cell applications. The Centre for Fuel Cell and Hydrogen research continues to investigate key research questions, collaborate with stakeholders and train human resources to allow the commercialisation of fuel cell and hydrogen technologies."
Dr Hailin Sun, Technical Director at TCL said: "Teer Coatings is committed to maintaining its position as a technology leader in industrial magnetron-based coasting systems and recognises the importance of innovation in materials, processes and equipment, especially as we move towards the net zero target. We are excited to have the opportunity to develop our technology further for fuel cell applications, and to be able to play our part in helping the UK reach its targets in carbon emission reduction."
Julian Hetherington, Director of Automotive Transformation at the APC says: 'Funding awarded through the Automotive Transformation Fund is aimed at ensuring the UK continues to be a world-leader in a prosperous zero carbon future. Through supporting feasibility studies like this by the Birmingham Centre for Fuel Cell and Hydrogen Research we hope that the technology being developed will reach commercial production quicker and more efficiently, ensuring a robust supply chain for a sustainable low carbon automotive industry.'
The High-Throughput Coating Processes for Fuel Cell Bipolar Plates project will support the Government's commitment to accelerate the shift towards zero emission vehicles as a part of the ten point plan for the green industrial revolution.