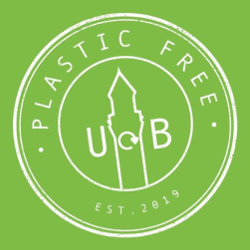 We are one of the newest societies at the University of Birmingham, and the latest to join the EPS Community!
Formed in autumn 2019, our main aim is to spread awareness about the dangers of single-use plastic in our environment. We are working to reduce single-use plastic on campus in a variety of ways:
We run litter picks and canal cleans every few weeks. We partner with the Canal & River Trust to clean the canal that runs alongside the University. Our last clean was even filmed by ITV! These are great fun (you often get to go on a boat!) and it's really easy to get involved and make a difference to the local environment. You can read the University's press release on canal cleans here.
We're building strong relationships with senior members of University staff and hold regular meetings discussing long-term goals that we want to achieve. These goals are:
Plastic-free ValeFest
Reusable cups at Guild and Duck&Scholar
More refill points around campus
Making the eco-friendly option the cheaper option
We recognise that implementing these changes requires a lot of time and attention, so we support the University and our colleagues in the best way we can. If you want to eat more sustainably on campus, check out the new café in the Teaching and Learning Building: it's 95% single-use plastic free!
We also hold speaker sessions and invite experts to teach us how we can all lead a more sustainable lifestyle. These are already proving very popular with many of our audiences adopting the techniques they learn and sharing their own advice. Hopefully, in the future we'll get outside companies to bring in plastic-free alternatives, such as shampoo bars, metal straws, cling-film alternatives, so we can buy and reduce the amount of single-use plastic we use in our everyday lives.
Plus, we've founded BEPOP! It is the University's own depop; a local marketplace to sell second-hand clothes with no packaging or travel miles. It's providing particularly popular for those fancy dress costumes you wear once and never look at again! We were even featured in Redbrick. If you aren't already part of the group, search 'Bepop' on Facebook.
As you can see we've had a busy few months! It's hard to believe we've achieved so much in such a short time, and we've not even been going a year yet. Thank you to everyone who's joined in so far.
If you'd like to join us, find us on social media with @plasticfreeuob on Facebook, Instagram and Twitter, or email us on plasticfreeuob@gmail.com.
See you soon!
To find out more about Plastic-Free UoB visit their website www.birmingham.ac.uk/eps/plastic-free.
There are 39 student groups in the College of Engineering and Physical Sciences. To learn more about their projects and activities head to www.birmingham.ac.uk/eps-societies.