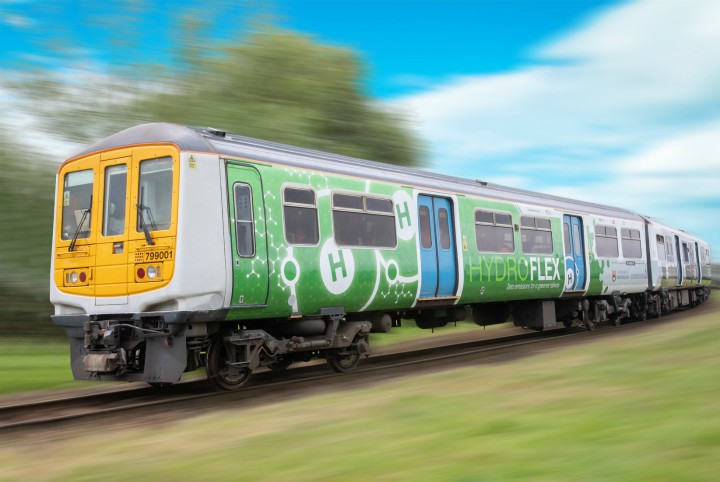 The UK's first hydrogen-powered train (HydroFLEX) is moving closer to commercial operation after the University of Birmingham has been awarded new funding by the Department for Transport.
The grant, worth £400,000, is part of InnovateUK's First of a Kind (FOAK) Programme. It will enable the HydroFLEX development team at the University of Birmingham and industry partners Porterbrook to develop the detailed final production design and testing of the HydroFLEX train.
As well as being the UK's first hydrogen-powered train, HydroFLEX is also the world's first bi-mode electric hydrogen train. It will be undergoing mainline testing on the UK railway in the next few weeks.
Winning the FOAK 2020 programme marks an important step for the University and Porterbrook as it brings hydrogen trains one step closer to operation on the UK railway.
Alex Burrows, Director of University of Birmingham's Birmingham Centre for Railway Research and Education, commented: "I am really pleased that our HydroFLEX project has secured further Innovate UK funding to take its development closer to full commercialisation.
"To achieve decarbonisation of the railway we need to develop hydrogen technology, alongside electrification and batteries, as one of the means to get diesel trains off the network.
"The University of Birmingham has world class R&D capability in rail decarbonisation and I am hugely proud of our team as we continue this fantastic innovation partnership with industry to accelerate the development of clean technologies for the railway."
Removing diesel from the rail network is essential for the industry to demonstrate its low carbon credentials to the public and Government at a time of increasing environmental awareness and action. Hydrogen, along with electrification and battery technology, is one of the three means for delivering a decarbonised railway.
The University is keen to continue its world-leading research in hydrogen - including application to rail - in order to meet the Government's decarbonisation agenda for the railway as well as enabling hydrogen powered trains to enter the UK transport market, for a cleaner and greener environment.
HydroFLEX launched at Rail Live in June 2019 where more than 500 people travelled by hydrogen power for the first time on the UK railway, including the Chairman and Chief Executive of Network Rail, the Secretary of State for Transport and the Shadow Transport Secretary.
Dr Stuart Hillmansen, Reader in Electrical Energy Systems at the University of Birmingham, said: "I am delighted that our team has received this funding to move towards a full production design of a Hydrogen powered train.
"It demonstrates that our team can deliver world leading fundamental research, and through partnerships with industry, see the ideas through to practical realisation. This project will have a real impact, and will rapidly accelerate industry efforts to deliver a solution to replace our diesel fleet."
Mary Grant, Porterbrook CEO, said "I am delighted that Innovate UK is supporting the University of Birmingham as it takes HydroFLEX to the next stage.
"We have proven this technology works, now is the opportunity for government to truly energise the Green Recovery by creating a real market for a fleet of hydrogen powered passenger trains."
Minister of State for Transport Chris Heaton-Harris said: "the success of this trial in reducing harmful emissions underlines the importance of the First of a Kind competition, which funds pioneering projects to support better, more environmentally friendly rail journeys.
"Reducing the railway's environmental impact and supporting decarbonisation is a priority for this Government. Harnessing innovation like this will be crucial in making our railways greener and cleaner in the future."
Andy Street, the Mayor of the West Midlands, said: "I am pleased to see the West Midlands is leading the way by pioneering this state-of-the-art technology, and this new funding will enable University of Birmingham and partners to take its work to the next stage.
"Reducing air pollution is a key part of the climate emergency we are facing, and it is great to see the Government putting cash on the table to support our region once again."
For media enquiries please contact:
Beck Lockwood, Press Office, University of Birmingham, tel: +44 (0)781 3343348.
Rupert Brennan Brown, Director of Stakeholder Engagement, (Porterbrook Leasing), tel: +44 (0)7973 950 923
About the University of Birmingham
The University of Birmingham is ranked amongst the world's top 100 institutions. Its work brings people from across the world to Birmingham, including researchers, teachers and more than 6,500 international students from over 150 countries.
The Birmingham Centre for Railway Research and Education (BCRRE) at the University of Birmingham is the largest university-based centre for railway research, education and innovation in Europe, developing world-leading new technologies alongside renowned higher education programmes.
Porterbrook Leasing Company Limited ("Porterbrook") is a leading participant in the rail leasing market and has a rolling stock fleet of over 4,500 vehicles.
Since privatisation, Porterbrook has invested over £3bn in the UK rail market. The company is looking to invest more than £1bn in Britain's railway over the coming years.
Porterbrook has successfully introduced over 2,500 new vehicles into passenger service. The company continues to invest across its existing fleets to ensure they remain attractive to operators and passengers. Porterbrook also provides ongoing train maintenance services.
In October 2014, the Porterbrook Group of companies was acquired by a consortium of investors including Alberta Investment Management Corporation ("AIMCo"), Allianz Capital Partners ("ACP") on behalf of certain insurance companies of the Allianz Group, EDF Invest and a consortium of Utilities Trust of Australia ("UTA"), The Infrastructure Fund ("TIF") and Royal Bank of Scotland Group Pension Fund ("RBS").