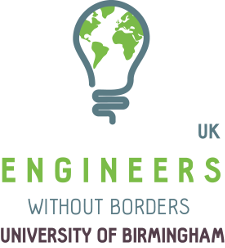 Engineers Without Borders (EWB) have had another strong term, hosting a range of events from sustainability workshops, outreach activities in primary and secondary schools, and the famous five-hour challenge of the Designathon.
Following on from our terrific start where we gaining 70 new members through our Welcome Talks and practise outreach 'Power for Everyone' workshops, plus the STEM induction with 120 attendees, we've continuing building on our success.
We've help 4 outreach workshops over the course of the year with a great response from all those who participated. Away from outreach, we've continued with our fundraising efforts for for our mother organisation, EWB UK, by hosting a doughnut sale on campus. We fundraised £72 that went towards supporting the important work that EWB as a charity carries out in across the world.
The highlight of the second semester was undoubtedly, the Designathon. Five teams of five students were given a real-life case study, that of Kibera in Nairobi, and the different multi-disciplinary angles that could be taken in approaching the problem. From there participants had five hours to discuss the problem, choose a method to approach the solution, create a model of their product, and, to wrap it all up, pitch it to a panel of judges who would assess them based on its practicability, cost-effectiveness, and potential. And, at the end of the day the results of each team's efforts were outstanding, using the given materials, models were devised that could rotate, swing, catch and filter water. Each team's solutions differed in implementation and were each unique, with their own merits; a testament to everyone's enthusiasm for the challenge.
The Designathon stands as a prime example of how the real-world operates; professionals from different disciplines (here, represented by students from degrees as varied as wildlife science to nuclear engineering) have to cooperate to find the resolution to a problem, communicate effectively and remain goal-oriented. Whilst small-scale and controlled, the Designathon was one of the most engaging events of the year, furthering our goal of increasing students' passion for utilising sustainable engineering to address global problems.
Irfan Zhariff Hazali
Marketing Officer 2019/20
To find out more about EWB Birmingham visit their website www.birmingham.ac.uk/eps/ewb.
There are 39 student groups in the College of Engineering and Physical Sciences. To learn more about their projects and activities head to www.birmingham.ac.uk/eps-societies.