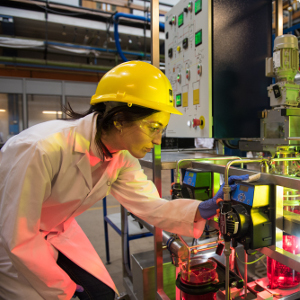 Technicians from the eight Midlands Innovation universities, including the University of Birmingham, have launched a new first of its kind equipment sharing initiative, comprising of a brochure, highlighting the excellent facilities across the consortium, and an equipment sharing fund to provide our researchers with the mechanism for access.
As part of the Research England funded TALENT programme, the Technician Led Equipment Sharing project has been designed to demonstrate how technical colleagues can lead the effective sharing of equipment to further the research and develop collaborations across Midlands Innovation institutions.
Details of over 50 facilities across the region are collated in the Equipment Sharing brochure [PDF], providing access to equipment such as flow cytometers, electron microscopes and even smart energy network demonstrators. The brochure will be regularly updated with further facilities and latest capabilities added, to provide a useful guide to researchers.
Speaking about the programme, Helen Turner, Director of Midlands Innovation, said: "The foundations of the Midlands Innovation partnership were built on establishing how to more effectively share our research equipment. It is a natural evolution that our technical staff become the driving force of this, due to the vital knowledge and experience that they bring. This work to empower technician-led equipment sharing will further strengthen collaborations across Midlands Innovation."
Ian Hancox, Co-Lead of TALENT, added: "Technicians have the skills and knowledge to maximise the outputs and push the boundaries of our investment in research technologies. Through leading the sharing of equipment, our technical colleagues will enable experiments that would not otherwise be possible, adding significant value to a wide range of research."
The Equipment Sharing programme has been established by Midlands Innovation's TALENT initiative, the UK's biggest ever technician support programme.
The TALENT programme provides a range of training and career development opportunities for technicians and is leading a national policy commission to develop strategic insight into the future technical skills and expertise needed to underpin UK research and development.
For more information about TALENT, the Equipment Sharing Fund and to view the Equipment Sharing brochure, visit https://www.mitalent.ac.uk/Technician-Led-Equipment-Sharing