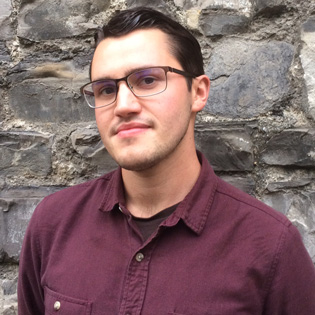 Modernist Profiles meets the members of the Centre for Modernist Cultures to explore their research interests, the work they are doing, and exciting developments in the field of modernist studies. This month we spoke to one of our doctoral researchers, Liam Harrison.
My research on 'lateness' stemmed from an interest in various fields of criticism where the term 'late' kept re-emerging. One of these was the notion of 'late modernism', as a contested late twentieth-century term of periodization, or as an aesthetic break from the high modernism of Joyce et al. I was also particularly interested in the kinds of dual termination/perseverance in the work of Samuel Beckett and his ongoing influence in post-millennial fiction. And thirdly, I thought the critical vocabulary of Theodor Adorno and Edward Said on 'late styles' had to be nuanced – notably their emphasis on 'nonharmonious nonserene tension': I wanted to push their methodology beyond the late work of an artist, and instead look at contemporary literature which strives to be self-consciously late.
Actually, I try to push back against all of these uses of lateness, be it in relation to questions of periodization or the tracing of influence, drawing on the work of critics such as Peter Boxall, Ben Hutchinson, and (my supervisor) David James, to map how various late forms and styles emerge across contemporary literature.
I am currently writing a thesis chapter on modernist legacies, and how bodies are rendered through language. Part of my research has focused on disentangling the linear narratives of modernism's contemporary legacies; this has meant spending a lot of time specifying how an all-encompassing notion of modernist continuity (a never-ending late modernism) can be problematic and speaks to larger issues in new modernist studies.
For my current chapter I am looking at Eimear McBride's A Girl is a Half-formed Thing and Maggie Nelson's The Argonauts – two works which possess an encyclopaedic self-consciousness in terms of their allusive and elusive scope. By thinking about the 'disharmonious tensions' in these works as performative and discordant engagements with modernist legacies, I hope to bypass the narrow stylistic comparisons of McBride with Joyce, for example, or the over-reliance on conceiving legacies in terms of an anxiety of influence.
Having studied in Ireland, a lot of my work looks at contemporary Irish fiction – Mike McCormack, Anna Burns, Kevin Barry, Claire Louise-Bennett etc. I'm also interested in modernist legacies in independent publishing, such as Stinging Fly and Tramp Press in Ireland, as well as Galley Beggar and Fitzcarraldo in the UK. And I have an interest in texts which push the formal boundaries of literature, such as the autofiction of Ben Lerner and Teju Cole, the collective biographical style of Annie Ernaux, and the vertiginous work of W.G. Sebald.
When inspiration strikes me, I occasionally write book reviews and literary criticism, most recently on the playwright Tom Murphy for The Irish Times, and on Sinéad Gleeson's wonderful Constellations for Review 31. I am also on the committee for the Modern & Contemporary Forum (MAC Forum), where we informally host two research papers for PGRs once a month – it's been a great way to escape the bubble of my own research!
I found spending some time away from academia helped me broaden my horizons, especially as my research is predicated on crossing different periods and genres. Working in book distribution and bookselling gave me time to find out what to read, and then go read it!
The Tom Murphy digital exhibition was a wonderful opportunity to work with Nicholas Grene at TCD. Murphy's work is criminally underperformed (especially outside Ireland), and the exhibition also gave me the chance to meet the great man himself, shortly before he died.
It has been great being the research assistant for the CCLC – Rachel Sykes has put on a wonderful programme. It has been fantastic collaborating with the Centre for Modernist Cultures too – hopefully there will be many more!