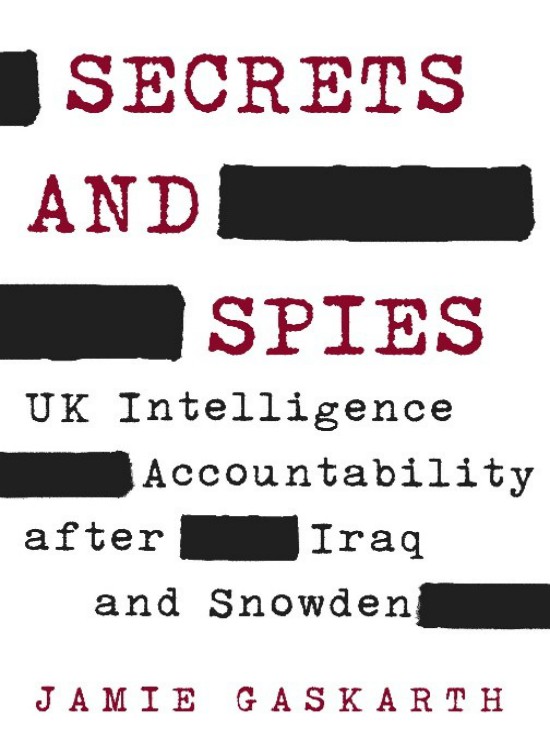 How can governments hold intelligence and security agencies accountable when what these organisations do is largely secret?
Dr Jamie Gaskarth, Senior Lecturer in Politics at the University of Birmingham, explores this question in a new book published by Chatham House/Brookings Institution Press. Based on new interviews with current and former UK intelligence practitioners, as well as extensive research into Britain's intelligence machinery, Secrets and Spies: UK Intelligence Accountability After Iraq and Snowden is the first detailed analysis of how intelligence professionals view their role and how accountability is understood inside—and outside—the intelligence and security agencies.
What keeps officials honest is less the formal mechanisms of accountability than the constantly evolving threat environment and everyday conversations with colleagues. These are labelled 'task-oriented accountability' and 'vernacular accountability'. As Gaskarth notes, the problem of focusing on the task is officials may not step back and think "Yes, it works, but should we be doing it?" This is argued as leading to UK officials cooperating in torture and rendition during the War on Terror. A 'can do' attitude also masks a lack of planning and the author is particularly scathing about the intervention in Afghanistan in 2006, asserting "the British government put troops in harm's way without properly assessing the risks."
More recently, the agencies have engaged in lessons learned exercises following the publication of the Chilcot report into the invasion of Iraq, and the Manchester and London attacks. A new generation of intelligence and security personnel are far more questioning of authority and more reflective about their work, helped by ethics counsellors and the fostering of a listening culture. But technological advances and the emergence of hostile states present new challenges.
The author suggests three key areas for improvement. Firstly, the intelligence and security agencies need to be better at anticipating emerging security problems, Most of the major develop­ments in world politics over the last decade—including the Arab Spring, Russian intervention in Ukraine and the emergence of the Islamic State—apparently came as a surprise to the intelligence services. Indeed, intelligence activity in the Maghreb was being downgraded just as the Arab Spring broke out. "As a former director of GCHQ character­izes it: "The whole…central machinery was essentially reactive, and there was nobody looking for, there was no voice speaking for, tomorrow's threat."
Secondly, the author argues for the creation of intelligence ethics committees, with lay people and experts discussing and approving new technologies and techniques. This is inspired by the NHS research ethics committees used to approve medical research. Future intelligence practice will rely heavily on artificial intelligence and machine learning via models such as neural networks. Although complicated, it is important that the public has input into how this technology is used for things like facial recognition, suspect profiling and bulk data analysis. Surprisingly, a number of former intelligence and security chiefs expressed support for the public to be involved in deciding what is appropriate, either by having a "citizen's body" or by having lay people sit on the Intelligence and Security Committee.
Thirdly, although there is far more ethical discussion within the agencies about what is appropriate, this would be more effective if it occurred on a cross-agency basis. Given how closely the agencies now work together, ethical problems are no longer confined to individual organizations.
The issues explored in this book have important implications for researchers, intelligence professionals, overseers, and the public when it comes to understanding and scrutinizing intelligence practice. It was made possible through funding from the British Academy.
Commenting on the book Richard J. Aldrich, Professor of International Security at the University of Warwick says Secrets and Spies "offers a new exploration of the widening world of accountability for UK intelligence … drawing on an impressive range of interviews with senior figures. This excellent book offers both new information and fresh interpretations. It will have a major impact."
Secrets and Spies: UK Intelligence Accountability after Iraq and Snowden will be published on January 28, 2020 and is available to pre-order online.
For more information or interviews, please contact: Hasan Salim Patel, Communications Manager (Arts, Law and Social Sciences), on +44 (0) 121 415 8134 or contact the press office out of hours on +44 (0) 7789 921 165.
About University of Birmingham
The University of Birmingham is ranked amongst the world's top 100 institutions, its work brings people from across the world to Birmingham, including researchers and teachers and more than 6,500 international students from over 150 countries.
Dr Jamie Gaskarth writes and teaches on practical ethical problems in foreign policy and security and he is the author/editor of six books on international relations and foreign policy.
Jamie Gaskarth has provided policy advice to a number of UK government departments, had evidence published for parliamentary inquiries on Global Britain, the National Security Strategy and UK soft power, and been awarded research grants from the British Academy and ESRC looking into British foreign policy and the rising powers and international society respectively. He is ISA English School Section Chair, on the editorial board of the ISA journal Foreign Policy Analysis, and will be Co-Editor of the ISA Journal of Global Security Studies from January 2020.
Secrets and Spies: UK Intelligence Accountability After Iraq and Snowden is part of the Chatham House/ Brookings Institution Press Insights book series.
Publication date: UK: January 2020; US: February 18th 2020. For more information & to arrange review copies, please contact Stuart Coles.