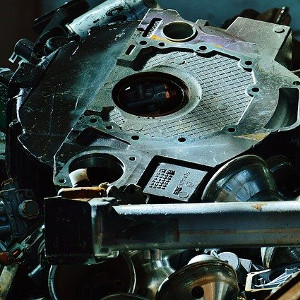 A UK-wide consortium that will unite expertise in technology metals has been launched by more than 40 UK organisations, pledging £1.6M to help direct policy and ensure a sustainable supply of these valuable resources.
The Technology Metals Circular Economy Centre (Met4Tech), which includes the University of Birmingham's Centre for Strategic Elements and Critical Materials (BCSECM) will provide a joined-up approach that will allow the UK to supply and use techmetals from secondary and primary sources and ensure they are used in a sustainable way.
Techmetals are the specialist constituent metals essential for practically all low carbon and digital technologies, examples are rare earth elements, cobalt and lithium. They are often at risk of supply disruption, have low recycling rates and poorly understood flows and yet are subject to rapidly increasing demand. For the UK to achieve its 2050 climate change targets it must have secure and responsibly sourced supplies of techmetal raw materials.
Dr Paul Anderson, Co-Director of the Birmingham Centre for Strategic Elements and Critical Materials, explains: "Techmetals form an integral part of many high-tech and clean energy technologies including fuel cells, electrolysers, wind turbines and electric vehicles. For the UK to achieve its 'Green Industrial Revolution' it will be essential to secure and manage efficiently its supplies of these metals, and the Met4Tech is designed to provide a platform for achieving this."
The UK currently has world-leading techmetals expertise. Through Met4Tech, this expertise will collaborate to create a new techmetals circular economy that will generate economic, social and environmental benefits for multiple stakeholders.
Potential benefits include:
Reducing risks in access to supply
Creating more sustainable and responsible supplies
Innovation in component, product, system design, manufacturing and business models
Potential for export-led economic growth.
Members of the new consortium include the Universities of Exeter, Manchester and Leicester alongside the Faraday Institution, the British Geological Survey and over 40 partners from across the value chain. Together, these partners have pledged £1.6 million in support, to take part in interdisciplinary research interventions, crossing engineering, chemistry, geology and social sciences.
Building on a track record of over £62M recent awards for research related to critical elements and techmetals, the new centre will build on the existing work between the BCSECM and consortium partners whilst also creating a National Techmetals CE Roadmap for practical use by industry and in Government policy making.
ENDS
Notes for editors:
The University of Birmingham is ranked amongst the world's top 100 institutions. Its work brings people from across the world to Birmingham, including researchers, teachers and more than 6,500 international students from over 150 countries.
The Birmingham Centre for Strategic Elements and Critical Materials (BCSECM) and the Critical Elements and Materials (CrEAM) Network is leading on a UK Critical Materials Policy Commission due to be launched in 2021
The BCSECM and the University of Exeter led on the development of the Critical Elements and Materials (CrEAM) Network to bring together specialists from across the entire UK supply chain in critical materials to develop strategies to mitigate supply risks of critical elements and materials.
The BCSECM and the University of Leicester continue to support the Faraday Institution through the ReLIB project