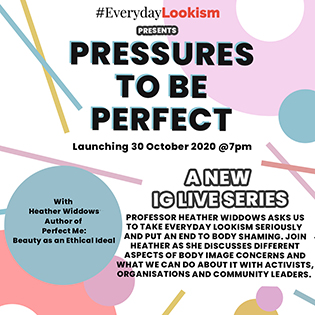 Pressures to be Perfect is a video series of Instagram Lives taking place this autumn as part of the #everydaylookism campaign. The campaign led by Professor Heather Widdows, asks us to take looks-based discrimination (lookism) seriously and specifically to put an end to body shaming.
The Pressures to be Perfect mini-series will raise awareness of the various ways body image pressures and expectations to improve our bodies affect our lives. Taking place on @everydaylookism on Instagram every Wednesday at 19:00 from 30 September until 11 November, these 30-40 minute live discussions will offer multiple insights into body shaming and what we can do about it.
"Pressures to be perfect are ramping up. Our culture is more visual and how we look matters more – to ourselves as well as others. With this series, we wanted to highlight lookism and body image issues from different perspectives. Each participant brings something different and our informal format allows us to respond to the audience, and have a real conversation. Together we explore the breadth of this hugely important issue." - Professor Heather Widdows
Episode 1: Mental Health and Body Image with Dr Antonis Kousoulis
Wednesday 30 September, 19:00
Antonis is the Director for England and Wales at the Mental Health Foundation, whose mission is to help people understand, protect and sustain their mental health. The MHF are currently partnering with Heather and the #everydaylookism campaign to call for image editing app providers to recognise the potential harm these apps can do.
Episode 2: Perfection, Imperfection, and Bodies with Sylvia Mac
Wednesday 7 October, 19:00
Sylvia Mac is the founder of Love Disfigure, an online support network for people with visible and hidden differences to help give confidence and embrace their bodies. She is also a Child Burn Survivor who spent her life self-body hating and living with severe depression. This led her to create the Love Disfigure network, in order to raise awareness for people with disfigurements, and bringing people together to talk and share their experiences, encouraging them to find their confidence to live a better life.
Episode 3: Talking Body Image & Children with Molly Forbes
Wednesday 14 October, 19:00
Molly is a body image campaigner, writer and presenter and the presenter of Naked Beach. She also covers wider feminist issues from a motherhood angle, and the importance of reinforcing positive body image in young children.
Episode 4: Perfection on Social Media & "The Instagram Face" with Melissa Seley
Wednesday 21 October, 19:00
Melissa Seley is a writer based in Los Angeles and New York who writes for magazines including Paper and the Los Angeles Review of Books. She is a keen supporter of the #everydaylookism campaign and has written about the impact of "Instagram face" and cosmetic surgery on the way we view ourselves.
Episode 5: "The Tyranny of Thinness" with Clem Prendergast
Wednesday 28 October, 19:00
Clementine is a mental health consultant and journalist, currently writing for Vogue and Dazed, and working with the Dove Self-Esteem Project and new mental health app Paradym. In 2018 she launched a campaign, as part of her Fat Girl project, asking the government to change the laws on photoshopping to make it a legal requirement for images to come with a written warning.
Episode 6: Ending Diet Culture with the Anti Diet Riot Club
Wednesday 4 November, 19:00
Anti Diet Riot Club was launched by Becky Young with the aim of combatting society's obsession with thinness, narrow beauty ideals and fat phobia. They champion 'body acceptance, radical self-love and fatpositivity. Becky wants to bring body positivity into the real world and feels it needs to be 'more than an inspiring quote".
Episode 7: Challenging Body Shame & Appearance Bullying with the Anti-Bullying Alliance
Wednesday 11 November, 19:00
The Anti Bullying Alliance is a unique coalition of organisations and individuals, working together to stop bullying and create safer environments in which children and young people can live, grow, play and learn. They support a free network of thousands of schools and colleges. They coordinate the Anti Bullying Week campaign and are interested in the affinity between lookism/body shaming and bullying and how these impact children and young people's lives.
Episode 8: Fashion and Body Image with Shahida Bari
Wednesday 18 November, 19:00
Shahidha Bari is a writer, academic and broadcaster. She is Professor of Fashion Cultures and Histories at London College of Fashion (University of the Arts London) and the author of Dressed: A Philosophy of Clothes. She appears regularly on radio and TV as one of the presenters of BBC Radio 3's Arts and Ideas programme, Free Thinking, and an occasional presenter of BBC Radio 4's Front Row.