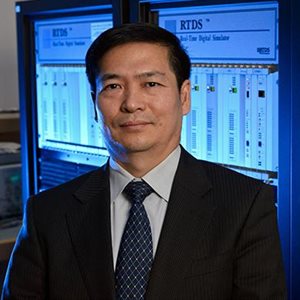 Over the course of the summer, Professor Xiao-Ping Zhang, Chair in Electrical Power Systems and Director of Smart Grid research has spoken at two prestigious webinars.
On Wednesday 19 August professor Zhang was joined by Rob Stephen, President of CIGRE and Adam Middleton, Chair of CIGRE UK to explore the Global Energy Challenges and Opportunities for young engineers.
Hosted by the Birmingham Energy Institute, this webinar was the first event of the Birmingham Power Systems Young Professionals Seminar Series.
During his presentation, Professor Zhang advised that the energy challenges we are facing could not be tackled by a single country alone. Emphasising that international collaborations are essential to successfully implementing the Paris agreement on Climate Change. Professor Zhang highlighted that institutions such as CIGRE are critical, as they are able to facilitate international collaborations, propose innovative smart grid solutions and support individual career developments.
On Wednesday 26 August, Professor Zhang spoke at the seventh webinar for Clean Energy Ministerial Regional and Global Energy Interconnection Initiative. Participants of the webinar included; senior representatives from the Clean Energy Ministerial (CEM) Secretariat, Government representatives of member states, United Nations Economic and Social Commission for Asia and the Pacific (UNESCAP), International Energy Agency (IEA), Dii (Desertec Industrial Initiative), Brazilian Electric Company, China Electricity Council, CIGRE as well as world-renowned experts and scholars.
During his presentation on European Electricity Interconnections and Cross-border Electricity Trade: Experiences, Opportunities and Challenges, Professor Zhang highlighted the evolution of European electricity network development opportunities to support the internal energy market. Professor Zhang also explored the opportunities to promote European cross-border interconnections and cooperation for electricity trade in Europe.
The discussions of this webinar led to the conclusion that a stronger European electricity grid is needed to support the European internal market and renewable energy integration. The group also agreed that in this situation, super transmission interconnectors between continents should be on the agenda.