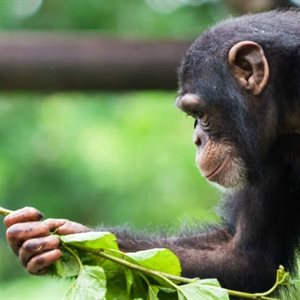 In July 2020, Dr. Steve Unwin from the School of Biosciences will be part of the team leading OVAG2020, a virtual workshop for conservation professionals who work with orangutans and gibbons.
The organising network is the Orangutan Veterinary Advisory Group (OVAG) www.ovag.org, of which Steve is co-founder. The aim of the OVAG2020 virtual event is to continue to bring together those working with orangutans and gibbons to share expertise, knowledge and ideas on effective orangutan conservation. For this event, there will be particular focus on the risk assessed response and management of the 2020 SARS CoV2 viral outbreak or COVID-19 disease amongst captive and wild populations of apes. As always, OVAG follows the One Health multidisciplinary approach, with specialists from such diverse areas as behavioural ecology, wildlife medicine, conservation management, human pulmonology and social science.
Alongside Steve, other speakers will include Dr Susannah Thorpe, Dr Jackie Chappell and members of their post graduate team from The University of Birmingham, discussing their Enclosure Design Tool. This system is used by many projects in Africa and South East Asia, assisting the decision making process for release of apes back to the wild. This vital assistance to improve reintroduction success is used by some of the largest orangutan sanctuaries that are rehabilitating orangutans rescued from the exotic pet trade.
Dr. Steve Unwin explains, "The COVID-19 pandemic has created significant challenges for ape conservation. Not just economically for zoos and sanctuaries, but also in terms of protecting the health of the captive animals. All apes and many monkey species are known to be susceptible to SARS CoV-2. The risk of exposure from humans for these endangered species is extremely high, not just for apes in captivity at the human-wildlife interface. Over 70% of the terrestrial space is human modified, also increasing the risk to wild populations of disease transmission due to ever increasing interactions with our own species."
Canvas is being used as the online platform, facilitating the sharing of all materials from the event, including recordings of live sessions and discussions. These will form part of an emerging Post Graduate / CPD One Health programme, using apes, including the human ape, as a template for others. This work is being led from the University of Birmingham School of Biosciences, in association with University of Minnesota, Stanford University, Gadjah Mada University, Chester Zoo, the Orangutan Conservancy, the IUCN and other field partners.
Associated with this work is a public website for individuals working at the human-primate interface. Steve is part of the team that created and continues to curate this site which includes technical information, opportunities for research and uses the extensive network to answer questions on COVID-19. Find out more.