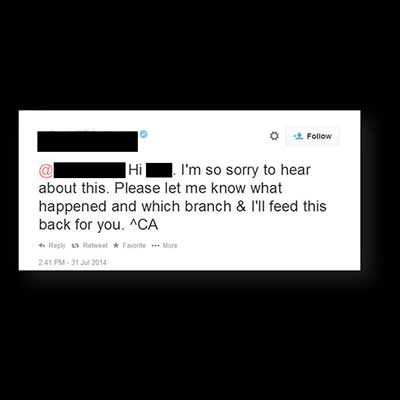 A study of more than 1000 company apologies on Twitter shows how saying 'sorry' differs when said by a company rather than a person.
Ruth Page, University of Birmingham.
0000-0002-2815-8382
Twitter is a powerful environment in which complaints from customers can put a company's reputation at risk.
One response companies can make is to apologise, but they do this in ways that contrast with how 'ordinary' people say 'sorry'.
Companies often use vague language rather than restating a particular problem. Having studied more than 1000 apologies made by companies in different sectors, companies offer to resolve the problem and use a person's name more often than 'ordinary people'.
While these strategies may help restore rapport and reputation, the apologies from companies often asked the customer to communicate further with them, placing the onus on the customer to resolve the situation.
The findings open up key questions for further work about how this might vary across different cultures and affect the perception of companies by their customers.